Kids Sewing Projects Index
These kids sewing projects are listed in the level they were done. Don't let that hold you back if you are an advanced sewer go back and do any project you choose.
You will find more than 100 easy tutorials here that are free and include step by step instructions and pictures.
---
Sewing Materials Available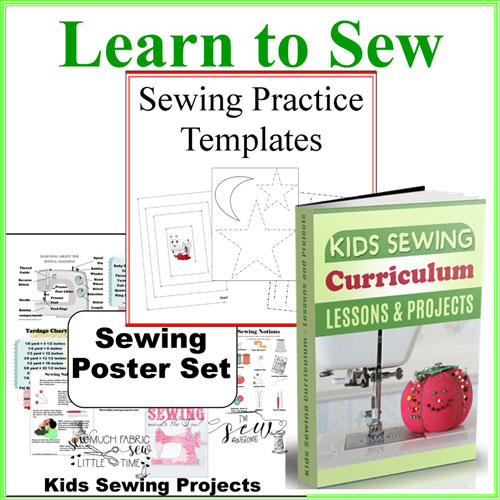 ---
Hand Sewing Simple Projects
Draft Critter
Drawstring Coin Bags
Felt Bookmark
Felt Mittens
Needle Book
Treasure Stick Bags
Readers submitted projects for Level 1
"This site provided me with lots of useful ideas and tips for planning my future sewing classes, not just for kids but adults as well. I live in England and we don't seem to have many sewing workshops/cafes around so I am hoping to open one and get going on my projects soon!

Thanks for this website it was most useful!"

~Emma

Non-Sewing Projects
Fabric Covered Bulletin Board
Fabric Wreath
Fairy Wings
Fatties
Fleece Blanket
Fleece Pillow
Fleece Poncho
Fleece Scarf
Sewing Kit in a Jar
Sweatshirt Vest
T-shirt Apron
Readers submitted No sew projects
Machine Sewing a Straight Stitch
Cell Phone Holder
Christmas Ornaments
Decorate a Snowman
Dishtowel Apron
Envelope tutorial
Felt Organizer

Fleece Winter Hat
Heating Pad with Pillowcase

How to Sew a Pillowcase
ipod Holder
Mini Pin Cushion
Mini Potpourri Pillows
Pillowcase Apron
Pin Cushion
Rectangle Pillow
Sew a Beanbag
T Shirt Fringe Tote Bag
Tie Belt
Tissue Pouch
Readers submitted projects for Level 2
"Hi! I think your site is wonderful and I love looking at your different kids sewing projects." ~Marcia
Machine Sewing Straight Lines, Curves and Corners
Baby doll blanket and matching pillow
Baby Receiving Blanket
Bandanna Tote Bag with an Inside Lining
Belt, how to sew a simple
Bottle Bag
Card, Sew a
Christmas Stockings
Circle Pillow
Couch Caddy
Denim Drawstring Bag
Denim Pocket Purse
Dinner Placemat
Drawstring Bags
Dress Up Your Jeans
Foam Pencil Case
Gathered Apron
Glasses Case
Goodie Bags
Hair Scrunchy
How to sew a skirt
Lap Desk
Neck Pillow
Patchwork Skirt
Patchwork Tote Bag
Pillow with a Tie Front
Pillow with Trim
Pocket Purse
Pot Holder
Snack Baggie
Strip Skirt
Stuffed Balls
Tablecloth
Tote Bags
T shirt Drawstring Bag
Triangle Patchwork Pillow
Readers submitted projects for Level 3
---
Need a fun hand sewing project?
Felt Sewing Patterns!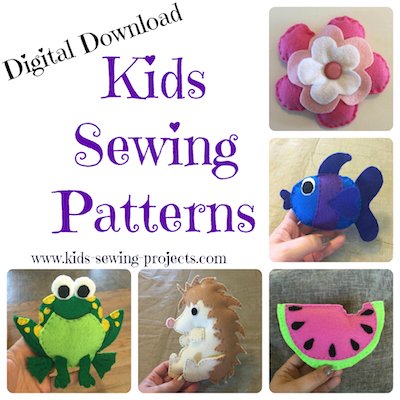 Sewing with elastic, using an iron, gathering and sewing with patterns
Appliqué Shirt Project
Bath Mitt
Binder Cover
Box shaped basket
Christmas Cone Ornaments
Christmas Cloth Napkins
Cloth Basket
Cloth Basket Tray with Ribbon Corners
Cloth Dinner Napkins
Easy Sew Curtains
Face Mask
Fairy Costume
Hair Bows
Headbands
How to sew shorts or pants
Jean Skirt
No Sew Table Runner
Pillowcase Skirt
Placemat with Pocket
Pocket Organizer
Prairie Points
Recycle Your Old Tie Projects
Reversible Head Bands
Shirt and Transform it into a Dress
Shirt into Shorts Project
T-shirt Skirts
Tie Pillow
Tie Skirt
Wall Hanging
Yoga Skirt
Readers submitted projects for Level 4
Kids sewing projects learning to design, how to sew buttonholes, zippers and beginning quilting
Mini bag with snaps
How to sew a buttonhole
Zipper bag sewing project
Quilting and Blanket Projects
Bandanna Quilt
Denim Quilt and Pillow
How to sew a quilt
How to tie a quilt
Patchwork Throw Rug
Scrap Patchwork Quilt
Readers submitted projects for Level 5
"I am starting a beginning sewing program at one of the Christian schools in my area. Your ideas and suggestions are wonderful and your patterns are so easy to follow." ~Linda
Other Kid Sewing Projects Ideas

10 Tips for Teaching Kids To Sew
10 Easy Gifts to Sew
15 Easy Projects for Kids

25 Projects using Fabric Scraps
Quilts for beginners
Boys Sewing Project Ideas

25 Most Popular Kids Sewing Projects
Basic Hand Stitches
Charity Sewing Projects
Easy Sew Costumes
Fabric Store Field Trip
How to Sew Section
Sewing Safety
Sew your own clothes
Wardrobe Refashion
Follow Kids Sewing Projects