Sew a Card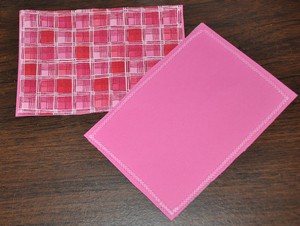 This sew a card project is a beginning project that you can design as a birthday card, note card or even postcard. We've used a zigzag stitch but you can also use a normal straight stitch.

This is a good project for kids who are just learning how to sew corners.

---
~This post contains affiliate links and I'll earn a small commission if you shop through them. There is no extra cost to you. This is how we help support our family and continue to bring you amazing content. To learn more see the
affiliates disclosure here.
~
---
How to Sew a Card

You will need the following to make one card:
4 x 6 inch piece of fabric
4x6 inch piece of
interfacing
4x6 piece of
cardstock
Iron your interfacing to the wrong side of your fabric piece.

Note:

If you are a beginning sewer have an adult help you.
Layer your fabric with the right side down and the cardstock on the top.

Carefully hold your layers together while you sew along the edges of your card.
Write a special note or send a postcard to someone. You can even use this as a bookmark if you'd like.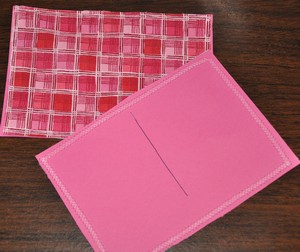 Sew Sweet Birthday Card
by Mary Ruthven (Palm Coast, FL.)
A fun sew a card idea!
I know the best gifts I receive are handmade and when my grandchildren make one for me, it's the
best
!
I send small handmade gifts to family and friends and try to come up with a gift that relates to the person I am giving it to. A friend who loves to sew has a birthday coming up.
I love hunting at garage sales and thrift stores...I find so many neat little items there. Recently I found this pretty and unusual pin cushion (new and still in original package) for 99 cents. It was a perfect gift for her! I make my own greeting cards and came up with this idea for her.
I knew when the card was completed that it would be adorable if a child made it for someone they knew who liked to sew. A hand drawn picture of a sewing machine would be a keepsake. I just roughly stitched "Happy Birthday" onto a piece of material and then glued it onto the machine at a position that made it look like the machine stitched it.
I cut a small plastic spool in half (the ones that come in travel sewing kits) and wrapped thread around it, then glued it on top of the machine. I also glued buttons on each corner.
Inside I wrote the verse, "A day hemmed in prayer seldom unravels" which a child can write in their own handwriting.
How cute would that be?
Just an idea I thought I'd share with other readers.
Happy Sewing!
---
Related Beginning Projects:
~
Beginning Lessons
, ~
Bandanna Tote Bag with an Inside Lining
, ~
Beach Towel Bag
, ~
Sew a Simple Belt
, ~
Bottle Bag
, ~
Christmas Stockings
, ~
Circle Pillow
,~
Couch Caddy
, ~
Dinner Placemat
, ~
Dress Up Your Jeans
, ~
Gathered Apron
,~
Hair Scrunchy
, ~
How to Sew Drawstring Bags
, ~
How to Sew Tote Bags
, ~
Jean Purse
, ~
Jean Apron
, ~
Lap Desk
, ~
Pencil Case
, ~
Neck Pillow
, ~
Painted Tote Bag
, ~
Patchwork Tote Bag
, ~
Patchwork Pillow Cover
, ~
Pillow Cover with Ties
, ~
Pillow with Trim
,~
Pocket Purse
,~
Sew a Pot Holder
, ~
Stuffed Animal
, ~
Stuffed Ball
, ~
T-shirt Drawstring Bag
, ~
Sew a Card
, ~
No Sew Projects
, ~
Sewing Safety
, ~
Practice stitches sheet, pdf
, ~
Felt Patterns
~
Pillowcase Scarf
, ~
Felt Tooth Fairy
, ~
Patchwork pillows
, ~
Stuffed Elephant
, ~
Placemat Travel Bag
,~
Stuffed Monster
,~
Pretty Purse
, ~
Make a sewn bookmark
, ~
Mini stuffed Dog
, ~
Stuffed Bear
, ~
Baby Receiving Blanket
,~
Baby doll blanket & pillow
,~
Patchwork Skirt
, ~
Reusable Snack Baggie
, ~
Glasses Case
, ~
Clothespin Bag
, ~
Sew Tablecloth
, ~
Pocket Pillow
---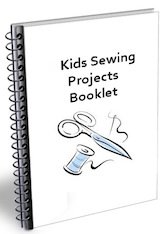 Would you like our sewing lessons and projects in an ad free, easy to read format?
Our curriculum ebook has over 100 projects and all our sewing lessons to teach kids (or adults) to sew.
Perfect for teaching!