Sewing Lessons
Level 5
Intermediate
The recommended age for the kids sewing lessons, intermediate level, is 13 and up. However, each child is different so the age is a rough guideline. If you are just joining kids sewing lessons, look through our past lesson levels before starting this level, regardless of age. See these
10 Tips for Teaching Kids To Sew.
---
Sewing Materials Available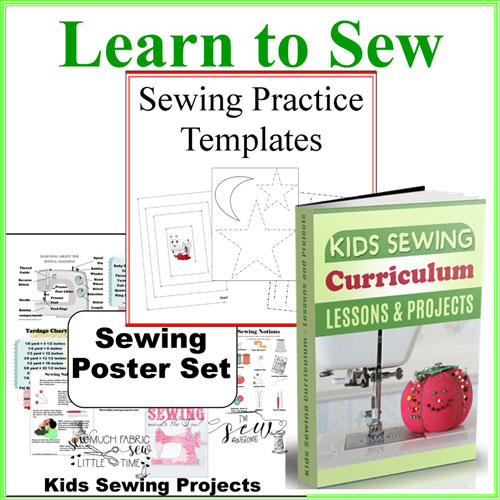 ---
Free Online Sewing Classes
Lesson 1- Fasteners
This is an easy way to finish off a project. In the future, you may do these along with a zipper on skirts or pants or you can add them to a pocket, this it what we will practice today.
Hooks and snaps are easily sewn to an item by hand sewing. You can also buy snaps that are attached with a special tool. We are going to do a simple project such as a coin bag and add a snap to close it.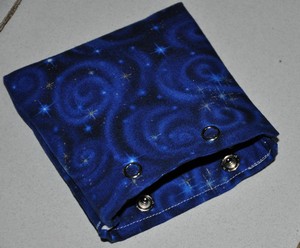 Other ways to practice different fasteners are to add a snap to a button on your shirt, or add a hook and eye to a skirt that has a small gap above the zipper.
Kids Sewing Lessons 2- Sewing a Button Hole
Each machine is different when it comes to sewing a button hole, so check your sewing manual for directions. Then make a drawstring bag. We've done this before in a previous level but we are making a slight change.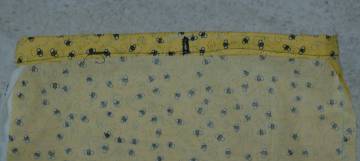 Lesson 3- Interfacing
Facings/ interfacings will probably come up once you start using patterns for shirts or pants. Interfacing makes collars or waistbands stiffer and stronger. They can also make tote bags and purses stronger. You can do any of these tote bag projects and add an extra step of ironing on interfacing to the inside of your bag.
Patchwork Tote Bag
Sew a Tote Bag
Tote Bag Instructions
Also try this
easy needle book with pages
project.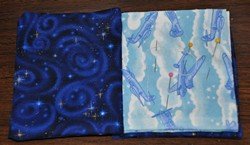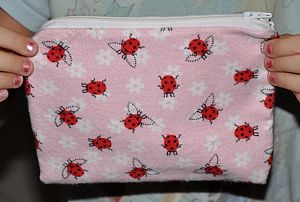 Kids Sewing Lessons 4- Zippers
Learn how to sew on a zipper. These can be tricky, so have lots of patience. Just remember that it's okay to make mistakes. It is part of learning how to sew. Look at your sewing machine manual to see how you sew a zipper on your machine.
Video Tutorial: How to Sew a Zipper
Before you finish your zipper bag, you should practice putting in a zipper on a piece of scrap material. Pinning the zipper in place will help. Sew slowly.
Finish the
Zipper Bag Project
you started in the previous lesson.
---
Need a fun hand sewing project?
Felt Sewing Patterns!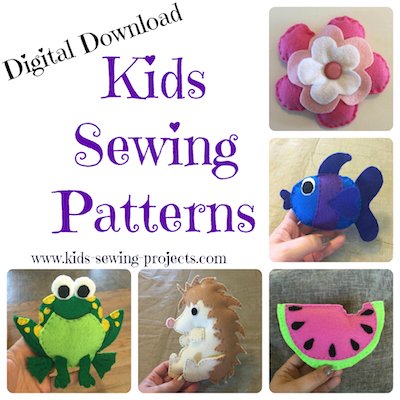 Kids Sewing Lesson 5- Complex Patterns
Pick out a more complex pattern that has zippers or buttonholes. Choose your material and work on your project before moving on to the next lesson.
Lesson 6- Experiment with Different Material
Try silks, satins, slippery and thicker materials (be sure your sewing machine can handle the thickness first). Start with a very simple pattern for this such as pajama pants or an elastic waist skirt, silks and satins can be frustrating, even for the more advanced sewer. Be sure to pin everything really well. Put the pins closer together, too. This will help keep the material from moving while you?re sewing. Another idea is a satin or silk pillow. Try one of these patterns...
Rectangle Pillow
Patchwork Pillow
Pillow Cover
Kids Sewing Lessons 7- Experimenting
At this point, you can try whatever you want and learn from there. A lot of learning to sew is trial and error, learning your basics and putting it to the test. I've been sewing for a long time and still make mistakes. Some patterns still baffle me and some steps are still confusing. Learn the basics and the other things will come with practice.
Lesson 8- Designing
There are a lot of fabric notions you can buy to embellish your clothes you have already. Add lace or ribbon to an item of clothing, mix and match with fabrics or patterns. You have the skills, now you can play with designing and creating.

Some projects for this are:
Adding a lace trim to a pillowcase
Adding trim to a pillow
Adding ribbon to sleeves of a t-shirt
Adding ric rac to a project for decoration
Lesson 9- Quilting and How to sew a blanket

We are going to take the sewing knowledge you have now and learn a little about quilting. Try any of these projects.
Baby Receiving Blanket
Bandanna Quilt
How to Sew a Quilt
Baby Doll Blanket and Matching Pillow
Scrap Patchwork Quilt
Denim Quilt and Pillow
How to Tie a quilt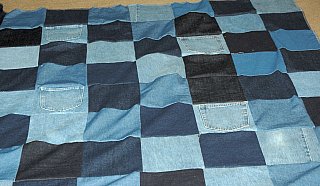 Now that you are an intermediate sewer consider
sewing something for charity!
Do you have a Sewing Project to Share?
Your Kids Sewing Project
Share your kids sewing project, instructions or pictures.


Reader's Submitted Projects
Click below to see contributions from other visitors to this page...

Frayed Edge Quilt

Decide how big you want your quilt. Then cut out 6-1/2-inch squares. If you don't want the fabric to fray, you can cut out using pinking shears. …
Rainbow blanket

Another project of my 7 year old. She has patiently sewn together 386 squares of 10x10cm. As you can see we had a good look together to give the …
Striped blanket

A variation on the rainbow blanket made with my 5-year old (she did the front side, I connected the back & the filling) 1- Cut 48 pieces from different …
Follow Kids Sewing Projects