Frayed Edge Quilt
by Elliana Reickard
(Eldridge, IA USA)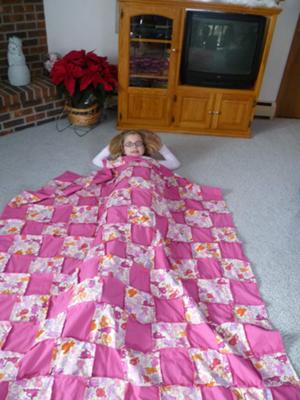 Elliana & her quilt
Decide how big you want your quilt. Then cut out 6-1/2-inch squares. If you don't want the fabric to fray, you can cut out using pinking shears.

You can buy material (I used a contrasting fabric every other square)or just use scraps of material or denim. Place 2 cotton squares together, wrong sides together, and repeat for a total of four fabric layers. (I used my contrasting fabric for the bottom layer).

Right sides will be positioned together to construct the backing. Stitch a 1/2-inch seam allowance along one edge for each square. Be sure & back stitch at beginning & end of each edge. Stitching the four layers together along one edge creates two blocks simultaneously.

Unfold the blocks & position the seam on top. Chain stitch squares together. Assemble the number of squares you want for your quilt width together to complete a row. (My twin quilt had 17 rows of 11 squares in each row.) Sew the rows together positioning the seams in opposite directions (butting together).

After sewing all the rows together, sew a 1/2-inch seam allowance around the outside edge. If you did not use pinking shears & want your quilt to fray, then clip all the raw edge seams 3/8- to 1/2-inch apart. Wash & dry the quilt to fray the edges.



---
Related Lessons Projects:
~Sewing Lessons Level 5, ~ Mini Snap Bag , ~Sew a buttonhole, ~Zipper Bag, ~Netbook Carrier,~How to sew a quilt, ~Cat Quilt, ~Quilt in 7 sittings, ~Denim Quilt, ~Rainbow patch blanket, ~Striped Quilt, ~Frayed Edge Quilt, ~Bandanna Quilt, ~Scrap Patchwork Quilt, ~How to tie a quilt, ~Sew a Rug, ~Needle Book
---
---
~This post contains affiliate links and I'll earn a small commission if you shop through them. There is no extra cost to you. This is how we help support our family and continue to bring you amazing content. To learn more see the
affiliates disclosure here.
~
---
Would you like our sewing lessons and projects in an ad free, easy to read format?
Our curriculum ebook has over 100 projects and all our sewing lessons to teach kids (or adults) to sew.
Perfect for teaching!