Scrap Patchwork Quilt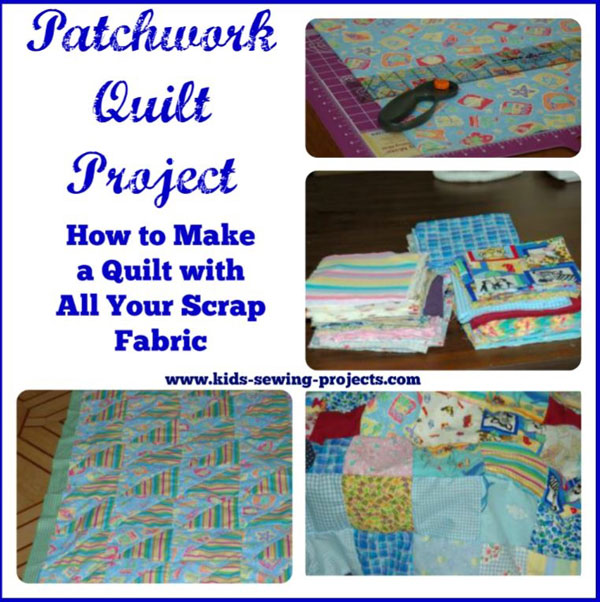 For a scrap patchwork quilt you will need:
Save your scraps or extra fabric you didn't use for these projects or buy remnants from the fabric department.
Backing fabric, 2 yards
Thread, yarn, or embroidery floss for finishing quilt
---
Sewing Materials Available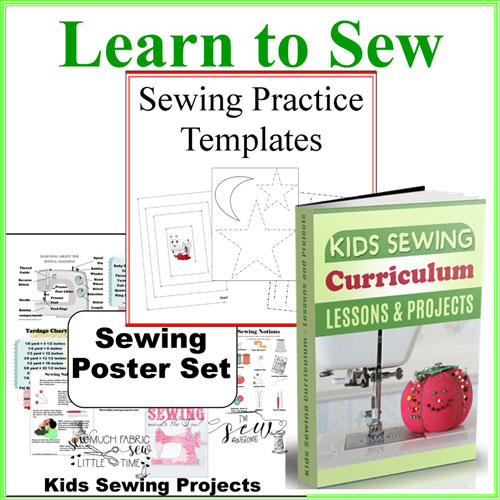 ---
How to Sew a Quilt Tutorial
Cut scraps into 5x5 inch squares with a rotary cutter, mat and ruler.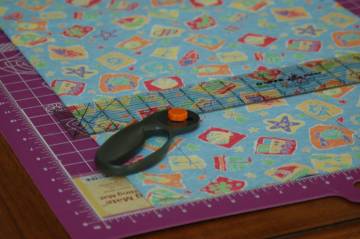 Save squares until you have enough to make a quilt. A good size is a twin size quilt which will take 187 squares. Finished size of the quilt is about 55x85 inches. You can simply make this bigger or smaller by decreasing the rows.
Making your Scrap Patchwork Quilt
Sew squares together in whichever pattern you'd like. I usually just sew one after another making sure different squares are next to each other. You want 11 squares in each row and 17 rows altogether. Once you have sewn your 17 rows, trim the edges of your rows with your rotary cutter, so it is even. Once all your rows are trimmed, lay them out on the floor and arrange them in the order you would like them.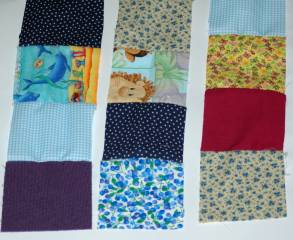 Stack rows on top of each other and then sew rows together in order.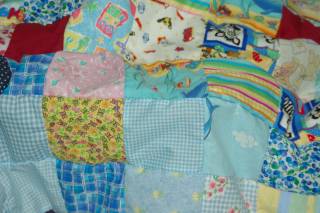 Once all your rows are attached trim the side edges with your rotary cutter so they are again even. To prepare your backing you will need to cut your material down the middle and sew two pieces together lengthwise. This will cover the back of your quilt.
Lay your backing material flat on the floor, right side down. Leave a little excess around the edges to work with when you are sewing the edges. Lay your batting on bottom piece and your quilted square on the top. Smooth flat and pin edges in several places.
Tie or hand sew your quilt.
To finish the edges you can turn both edges down and pin together. If you do this method you will want to trim your excess material all around the edges.

Or you can turn the backing material down and turn down again. Pin in place. This brings the material from the back visible on the front of your quilt. With the other method the backing will not show at all.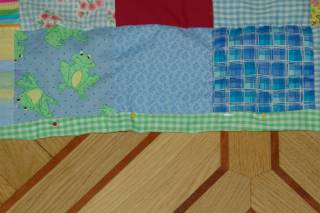 More Projects using Fabric Scraps
25 Sewing projects using fabric scraps.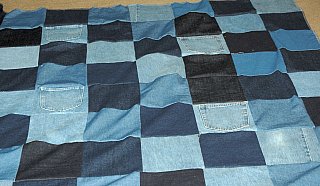 Try an old blue jean patchwork quilt.
---
Related Lessons Projects:
~
Sewing Lessons Level 5
, ~
Mini Snap Bag
, ~
Sew a buttonhole
, ~
Zipper Bag
, ~
Netbook Carrier
,~
How to sew a quilt
, ~
Denim Quilt
, ~
Rainbow patch blanket
, ~
Striped Quilt
, ~
Frayed Edge Quilt
, ~
Bandanna Quilt
, ~
Scrap Patchwork Quilt
, ~
How to tie a quilt
, ~
Sew a Rug
, ~
Needle Book
---
Follow Kids Sewing Projects