How to Tie a Quilt
Directions on how to tie a quilt.
Using a
yarn needle,
thread yarn leaving excess yarn on the end (don't tie a knot at the end) measure every 4 inches and insert your needle down and back up.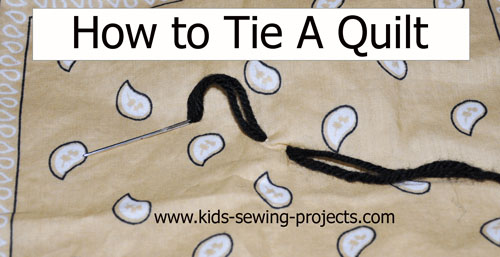 Tie in a double knot. Cut excess yarn about 1-2 inch long with scissors.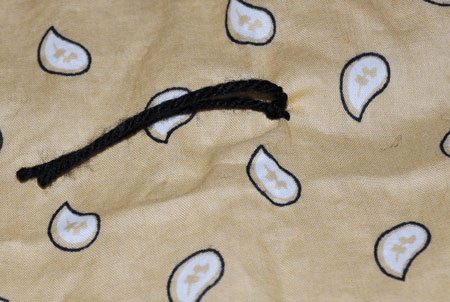 Start again 4 inches away. Some material has a design or squares that you can tie in each corner instead of measuring.
How to Hand Sew a Quilt
Use small running stitches, as small as you can make. A running stitch is just stitches in a line. You can make straight lines or any type of pattern such as hearts, circles, diamonds, etc. Use quilting thread because it is stronger.
To tie the end of your thread, tie a small knot in your thread and pull it through the top layer of your material so it catches in your batting. This is how you start hand sewing also. Cut your thread close to your material after tying.
You can finish off the sides of your
quilt with a blanket binding.
---
Related Lessons Projects:
~
Sewing Lessons Level 5
, ~
Mini Snap Bag
, ~
Sew a buttonhole
, ~
Zipper Bag
, ~
Netbook Carrier
,~
How to sew a quilt
, ~
Cat Quilt
, ~
Quilt in 7 sittings
, ~
Denim Quilt
, ~
Rainbow patch blanket
, ~
Striped Quilt
, ~
Frayed Edge Quilt
, ~
Bandanna Quilt
, ~
Scrap Patchwork Quilt
, ~
How to tie a quilt
, ~
Sew a Rug
, ~
Needle Book
---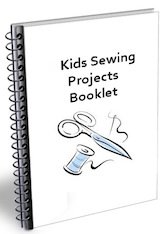 Would you like our sewing lessons and projects in an ad free, easy to read format?
Our curriculum ebook has over 100 projects and all our sewing lessons to teach kids (or adults) to sew.
Perfect for teaching!