How to Sew a Zipper Bag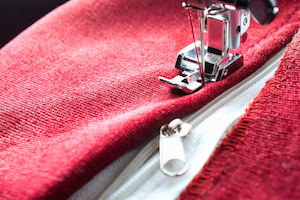 You will need the following to learn how to sew a zipper bag:**
2 pieces of 8x12 inch fabric
8x12 inch
interfacing
7 inch zipper
---
~This post contains affiliate links and I'll earn a small commission if you shop through them. There is no extra cost to you. This is how we help support our family and continue to bring you amazing content. To learn more see the
affiliates disclosure here.
~
---
See below for a
video on sewing zippers.
Layer the interfacing and one 8x 12 rectangle material on top of each other so the right side is visible.
Iron together. Some interfacing is fused to the material with an iron, some has to be sewn together. Read the instructions that come with the interfacing to determine. Place the other piece of material on top of the interfacing, right side up, so you have a double sided piece of material. Pin in middle to secure together. Set aside until the next lesson, where you will learn about adding zippers.
Fold in half. Pin zipper to the top edge as shown in the picture. ~Note, if making different lining the zipper will go on top of the outside material.
Unzip the zipper half way. Start to sew and then move the zipper up to the top and continue sewing. Pin zipper to opposite side.
Sew. Now pin sides and sew each side. Unzip zipper and turn right
side out.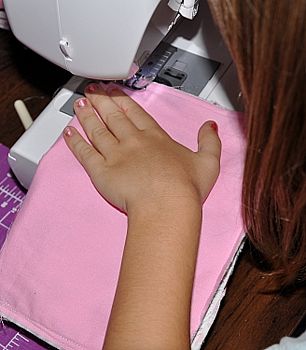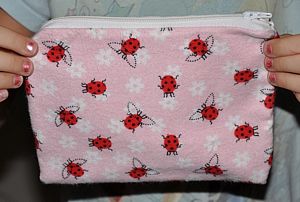 **If you'd like a smaller zipper bag cut out interfacing and fabric 5x9 inches and use a 4 inch zipper.
Cut interfacing and fabric, 12x7 for a 6 inch zipper.
Boxed Zipper Bag

This method is great for making a larger zipper bag that has a more boxed shaped to the bottom.
You will need:
2- 16x12 inch fabric rectangle one for outside, one for lining
16 x12 inch rectangle of
interfacing
12 inch zipper
Follow the directions the same as the zipper pouch above.
Holding your zipper bag with inside out. Pinch the bottom edge and fold the opposite direction it normally lays at making a triangle.
Sew across the triangle from one edge to the other.
Video Tutorial on Sewing a Zipper
---
Related How to Sew Pages:
Pleats
, ~
Zippers
, ~
Darts
, ~
Hand Stitches
, ~
Buttons
, ~
Sew Curves
, ~
Sew Corners
, ~
Sewing aprons
, ~
Applique
, ~
Sequins
, ~
Buttonholes
, ~
French Seams
, ~
Ruffles
, ~
Elastic
, ~
Blanket binding
, ~
Sew patches
, ~
Ric Rac
, ~
Skirts
, ~
Top Stitch
, ~
Pillows
, ~
Stuffed animals
, ~
Skirt pattern
, ~
Stretch material
, ~
Thread a needle
, ~
Measure a pattern
---
---
Related Lessons Projects:
~
Sewing Lessons Level 5
, ~
Mini Snap Bag
, ~
Sew a buttonhole
, ~
Zipper Bag
, ~
Netbook Carrier
,~
How to sew a quilt
, ~
Cat Quilt
, ~
Quilt in 7 sittings
, ~
Denim Quilt
, ~
Rainbow patch blanket
, ~
Striped Quilt
, ~
Frayed Edge Quilt
, ~
Bandanna Quilt
, ~
Scrap Patchwork Quilt
, ~
How to tie a quilt
, ~
Sew a Rug
, ~
Needle Book
---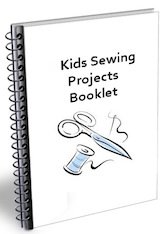 Would you like our sewing lessons and projects in an ad free, easy to read format?
Our curriculum ebook has over 100 projects and all our sewing lessons to teach kids (or adults) to sew.
Perfect for teaching!