How to Sew Sequins
How do you Sew Sequins?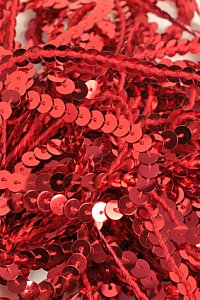 Sequins are little embellishments that you add to your finished projects or clothes. You sew them on by hand by threading your needle with the colored thread you desire.
Starting your needle on the back side of the material, bring the needle up through the middle of your sequin and back down through the side. Continue until sequin is secure.
Bring needle to back and tie a knot. Cut off excess thread.
This is very similar to sewing a button.
---
Related How to Sew Pages:
Pleats
, ~
Zippers
, ~
Darts
, ~
Hand Stitches
, ~
Buttons
, ~
Sew Curves
, ~
Sew Corners
, ~
Sewing aprons
, ~
Applique
, ~
Sequins
, ~
Buttonholes
, ~
French Seams
, ~
Ruffles
, ~
Elastic
, ~
Blanket binding
, ~
Sew patches
, ~
Ric Rac
, ~
Skirts
, ~
Top Stitch
, ~
Pillows
, ~
Stuffed animals
, ~
Skirt pattern
, ~
Stretch material
, ~
Thread a needle
, ~
Measure a pattern
---
Follow Kids Sewing Projects