Baby Doll Blanket
To make a doll blanket and matching doll pillow you will need:
18" x 23" rectangle of 2 different kinds of coordinating fabric
Crib size batting
(you can make this into a larger blanket just by changing the size. However, material is only 45 inches wide, usually, so you will need to sew two pieces together to equal a twin size which is 72" x 90". Then follow directions below.)
---
Sewing Materials Available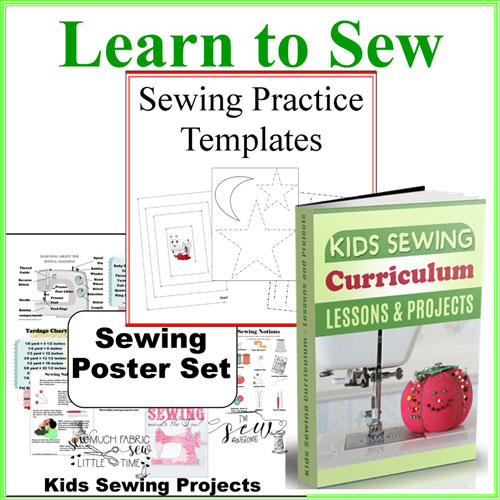 ---
How to Sew a Blanket or Quilt Tutorial

Lay bottom material right side down on large table. Place sheet of batting on top (you may need to trim to size). Top with 2nd material, right side facing up. Lay flat and pin several places along edges and in the middle.
Tie quilt with yarn or embroidery floss. See
directions on how to tie a quilt.
Turn edges in and pin. Sew around edges, taking pins out as you sew.
How to Sew a Doll Pillow and Pillowcase
For doll pillow you need:
10" x 8" rectangle piece of fabric
Stuffing or batting
Place right sides together on your material and sew 2 edges. Turn right side out and insert batting.
Turn edges in and pin. Sew edge.
Fluff pillow, if needed. Now make a
pillowcase
for the pillow, directions below.
---
Need a fun hand sewing project?
Felt Sewing Patterns!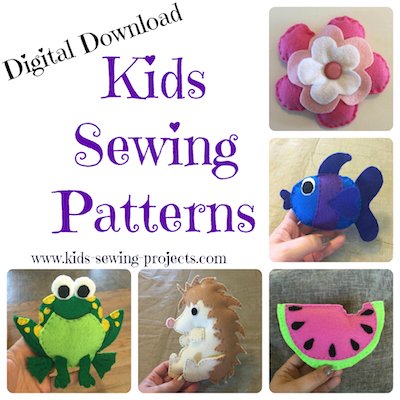 Doll Pillowcase
For pillowcase you need a 12 x 9 inch rectangle piece of fabric. With right sides together, sew 2 edges leaving short edge open. Turn top edge down ¼ inch and down again. Pin and sew edge.
Turn inside out and insert pillow.
---
Related Beginning Projects:
~
Beginning Lessons
, ~
Bandanna Tote Bag with an Inside Lining
, ~
Sew a Simple Belt
, ~
Bottle Bag
, ~
Christmas Stockings
, ~
Circle Pillow
,~
Couch Caddy
, ~
Dinner Placemat
, ~
Dress Up Your Jeans
,
Foam Pencil Case
, ~
Gathered Apron
,~
Hair Scrunchy
, ~
How to Sew Drawstring Bags
, ~
How to Sew Tote Bags
, ~
Jean Purse
, ~
Jean Apron
, ~
Lap Desk
, ~
Neck Pillow
, ~
Patchwork Tote Bag
, ~
Patchwork Pillow Cover
, ~
Pillow Cover with Ties
, ~
Pillow with Trim
,~
Pocket Purse
,~
Sew a Pot Holder
, ~
Stuffed Animal
, ~
Stuffed Ball
, ~
T-shirt Drawstring Bag
, ~
Sew a Card
, ~
No Sew Projects
, ~
Sewing Safety
, ~
Felt Patterns
~
Pillowcase Scarf
, ~
Felt Tooth Fairy
, ~
Stuffed Elephant
, ~
Stuffed Monster
,~
Pretty Purse
, ~
Mini Stuffed Dog
, ~
Stuffed Bear
, ~
Baby Receiving Blanket
,~
Baby doll blanket & pillow
,~
Patchwork Skirt
, ~
Reusable Snack Baggie
, ~
Glasses Case
, ~
Sew Tablecloth
, ~
Pocket Pillow
---
Follow Kids Sewing Projects