Sew a Drawstring Bag
It is easy to learn to sew a drawstring bag. These fun bags are great for storage. You can make them in a variety of sizes. Pick out some decorative fabric and get started on this easy sewing project.
---
Sewing Materials Available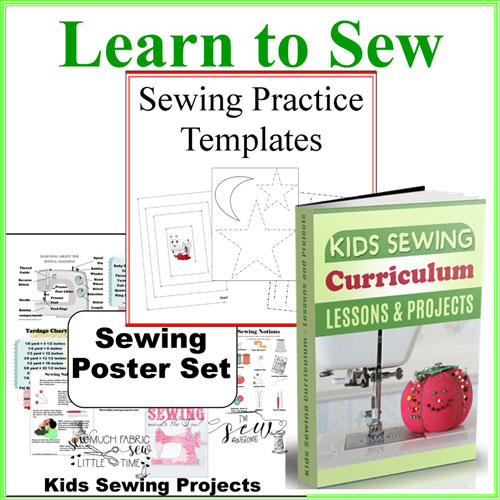 ---
Directions on Sewing a Drawstring Bag
For a sleeping bag size use 7/8-1 yard of fabric
For a medium bag use 16 x 15 inch of fabric
For a small size bag use 11 x 19 ½ inch of fabric
Experiment with different sizes.
You will also need:
Using 1 yard ribbon or cording, depending on size of bag. Attach a safety pin at the end of your drawstring. Push safety pin through the opening and continue pushing through until you come out the opening again. Tie a knot at the ends of the cording.
You can use drawstring bags for storing toys, doll clothes, blocks, sleeping bags, cars, whatever you need to store.
To hand sew a
drawstring coin bag
go back to Level 1 projects. Or change the drawstring instructions and machine sew.
Jean Drawstring Bag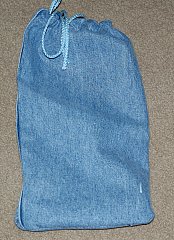 Try a
drawstring bag made out of an old pair of jeans.
T-shirt Drawstring Bag
Learn how to sew a t-shirt drawstring bag.
---
Related Beginning Projects:
~
Beginning Lessons
, ~
Bandanna Tote Bag with an Inside Lining
, ~
Sew a Simple Belt
, ~
Bottle Bag
, ~
Christmas Stockings
, ~
Circle Pillow
,~
Couch Caddy
, ~
Dinner Placemat
, ~
Dress Up Your Jeans
,
Foam Pencil Case
, ~
Gathered Apron
,~
Hair Scrunchy
, ~
How to Sew Drawstring Bags
, ~
How to Sew Tote Bags
, ~
Jean Purse
, ~
Jean Apron
, ~
Lap Desk
, ~
Neck Pillow
, ~
Patchwork Tote Bag
, ~
Patchwork Pillow Cover
, ~
Pillow Cover with Ties
, ~
Pillow with Trim
,~
Pocket Purse
,~
Sew a Pot Holder
, ~
Stuffed Animal
, ~
Stuffed Ball
, ~
T-shirt Drawstring Bag
, ~
Sew a Card
, ~
No Sew Projects
, ~
Sewing Safety
, ~
Felt Patterns
~
Pillowcase Scarf
, ~
Felt Tooth Fairy
, ~
Stuffed Elephant
, ~
Stuffed Monster
,~
Pretty Purse
, ~
Mini Stuffed Dog
, ~
Stuffed Bear
, ~
Baby Receiving Blanket
,~
Baby doll blanket & pillow
,~
Patchwork Skirt
, ~
Reusable Snack Baggie
, ~
Glasses Case
, ~
Sew Tablecloth
, ~
Pocket Pillow
---
Follow Kids Sewing Projects