Felt Tooth Fairy
by Ally
(Oklahoma)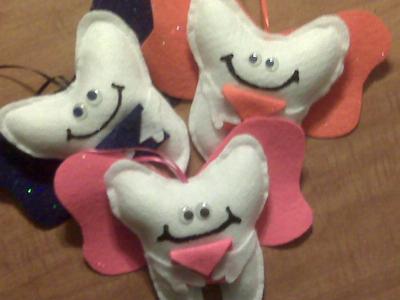 Cut 2 Tooth shape pieces about 6 inches wide by 7 inches tall. Sew together both panels about 1/4" from edge leaving a 2 inch opening at the top. Stuff tooth with poly-fill. Take 11 inches of ribbon fold in half slip into the center opening of the top of the tooth, carefully sew tooth shut.

Cut one pair of wings from any colored felt, I like the sparkle felt. It measures 8 inches wide by 4-1/2 inches tall. Make sure you put the curves in, this is one piece. Pin your felt wings to the back of the tooth and hand sew it to the back to secure.

Next cut a 4 inch by 2 inch rectangle, cut one end into a triangle tip for the flap of your tooth envelope. Sew together sides leaving the flap open. Attach one small piece of "loop" of hook & loop tape" to the tip of the envelope flap. It will stick to your envelope to close. Then pin your envelope on your tooth and hand sewing, tack down the corners.

Cut white felt hands and place to look like they are holding the envelope. Hand sew tacking them in place.

Now grab your fabric glue, you need 2 googly eyes, place them to make a face on your tooth. Use Black Glitter glue to make the smile. Set aside to dry and then you have a simple pillow for your tooth.

Project time is approximately 1 hour.


---
Related Beginning Projects:
~
Beginning Lessons
, ~
Bandanna Tote Bag with an Inside Lining
, ~
Sew a Simple Belt
, ~
Bottle Bag
, ~
Christmas Stockings
, ~
Circle Pillow
,~
Couch Caddy
, ~
Dinner Placemat
, ~
Dress Up Your Jeans
,
Foam Pencil Case
, ~
Gathered Apron
,~
Hair Scrunchy
, ~
How to Sew Drawstring Bags
, ~
How to Sew Tote Bags
, ~
Jean Purse
, ~
Jean Apron
, ~
Lap Desk
, ~
Neck Pillow
, ~
Patchwork Tote Bag
, ~
Patchwork Pillow Cover
, ~
Pillow Cover with Ties
, ~
Pillow with Trim
,~
Pocket Purse
,~
Sew a Pot Holder
, ~
Stuffed Animal
, ~
Stuffed Ball
, ~
T-shirt Drawstring Bag
, ~
Sew a Card
, ~
No Sew Projects
, ~
Sewing Safety
, ~
Felt Patterns
~
Pillowcase Scarf
, ~
Felt Tooth Fairy
, ~
Stuffed Elephant
, ~
Stuffed Monster
,~
Pretty Purse
, ~
Mini Stuffed Dog
, ~
Stuffed Bear
, ~
Baby Receiving Blanket
,~
Baby doll blanket & pillow
,~
Patchwork Skirt
, ~
Reusable Snack Baggie
, ~
Glasses Case
, ~
Sew Tablecloth
, ~
Pocket Pillow
---