Pocket Purse
Embellish or design your own pocket purse or bag.
You will need:
Old shirts with pockets or use back pockets of lightweight pants.**
Embellishments, appliqués, beads, etc.
Cut out two pockets from old shirts. Try a thrift store if you don't have any available at your house. Pin your pockets together. Sew the two pockets together around the sides and bottom.
Use ribbon, beads, belts or whatever you may have available for a strap. Attach the strap by hand sewing in place. Decorate by gluing on something decorative if desired.
**Heavier material or jeans will be hard to sew because of their thickness so try lighter weight material for this project.
---
Sewing Materials Available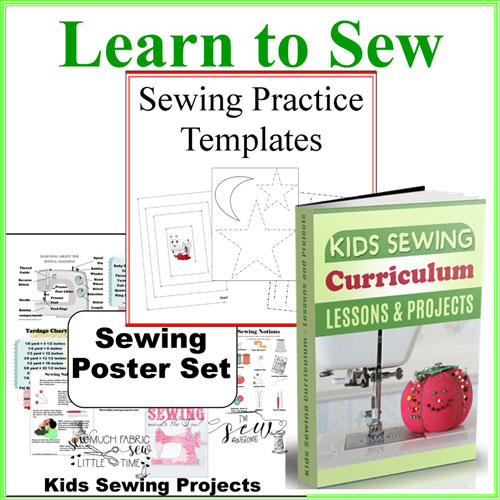 ---

Old clothes with pockets can be cut out and saved for projects such as this. Also try making pencil holders out of jean pockets. These require no sewing. Attach magnet strips to the back and omit the strap. Then hang on the fridge or school lockers. Use your imagination to decorate.
Daddy's Change Pocket
by Mary and Ann www.craftingtales.com (Palm Coast, FL USA)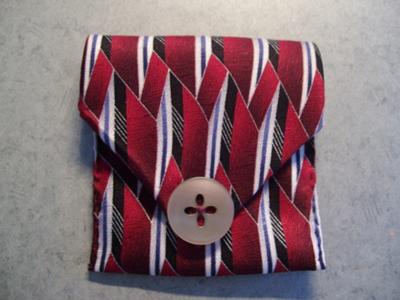 Another fun idea for a small coin bag or purse!
This is a simple project for kids which will result in a super cute gift to give Dad or any special man for Father's Day.
Just pick a man's tie (you can find them at thrift stores) and measure up about 11" from the tip of the large end. Cut off and then turn raw edge in. Sew this closed. Fold this end up so it comes right below the "V" of the large end and sew your sides closed.
Take one half of a snap and sew one end under the tip on the top. Sew other half on the front of the pocket but be sure not to sew through to the back. Sew a button on the front or use something else, such as a coin or bottle cap. You can glue these type of things on.
Now Dad has a place to keep his coins and because it's nice and slim, it fits well in any pocket.
---
Related Beginning Projects:
~
Beginning Lessons
, ~
Bandanna Tote Bag with an Inside Lining
, ~
Sew a Simple Belt
, ~
Bottle Bag
, ~
Christmas Stockings
, ~
Circle Pillow
,~
Couch Caddy
, ~
Dinner Placemat
, ~
Dress Up Your Jeans
,
Foam Pencil Case
, ~
Gathered Apron
,~
Hair Scrunchy
, ~
How to Sew Drawstring Bags
, ~
How to Sew Tote Bags
, ~
Jean Purse
, ~
Jean Apron
, ~
Lap Desk
, ~
Neck Pillow
, ~
Patchwork Tote Bag
, ~
Patchwork Pillow Cover
, ~
Pillow Cover with Ties
, ~
Pillow with Trim
,~
Pocket Purse
,~
Sew a Pot Holder
, ~
Stuffed Animal
, ~
Stuffed Ball
, ~
T-shirt Drawstring Bag
, ~
Sew a Card
, ~
No Sew Projects
, ~
Sewing Safety
, ~
Felt Patterns
~
Pillowcase Scarf
, ~
Felt Tooth Fairy
, ~
Stuffed Elephant
, ~
Stuffed Monster
,~
Pretty Purse
, ~
Mini Stuffed Dog
, ~
Stuffed Bear
, ~
Baby Receiving Blanket
,~
Baby doll blanket & pillow
,~
Patchwork Skirt
, ~
Reusable Snack Baggie
, ~
Glasses Case
, ~
Sew Tablecloth
, ~
Pocket Pillow
---
Follow Kids Sewing Projects