Pretty Purse
by Angeles Cardenas
(LA. Long Beach, CA)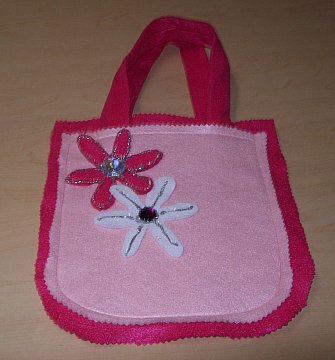 1- Cut 2 squares of fabric 10 x 10 inches.
2- Cut 2 squares of fabric 9 x 9 inches.
3- Cut 2 strips of fabric 3 x 20 inches for handles.
4- Cut around the edges of the squares with the pinking scissors.
5- Sew the long strip right sides together, and turn the strip up side out,
do the same with the other strip. The strips will be the handles for the purse.
6- Place the handles between the 2 squares and sew the topside of the purse,
do the same for the other side of the purse.
7- Sew the 2 sides and bottom together of the purse (4 squares)
8- Provide the child with more felt, glitter, and pretty jewels to decorate.



---
Related Beginning Projects:
~
Beginning Lessons
, ~
Bandanna Tote Bag with an Inside Lining
, ~
Sew a Simple Belt
, ~
Bottle Bag
, ~
Christmas Stockings
, ~
Circle Pillow
,~
Couch Caddy
, ~
Dinner Placemat
, ~
Dress Up Your Jeans
, ~
Gathered Apron
,~
Hair Scrunchy
, ~
How to Sew Drawstring Bags
, ~
How to Sew Tote Bags
, ~
Jean Purse
, ~
Jean Apron
, ~
Lap Desk
, ~
Pencil Case
, ~
Neck Pillow
, ~
Patchwork Tote Bag
, ~
Patchwork Pillow Cover
, ~
Pillow Cover with Ties
, ~
Pillow with Trim
,~
Pocket Purse
,~
Sew a Pot Holder
, ~
Stuffed Animal
, ~
Stuffed Ball
, ~
T-shirt Drawstring Bag
, ~
Sew a Card
, ~
No Sew Projects
, ~
Sewing Safety
, ~
Felt Patterns
~
Pillowcase Scarf
, ~
Felt Tooth Fairy
, ~
Stuffed Elephant
, ~
Stuffed Monster
,~
Pretty Purse
, ~
Mini Stuffed Dog
, ~
Stuffed Bear
, ~
Baby Receiving Blanket
,~
Baby doll blanket & pillow
,~
Patchwork Skirt
, ~
Reusable Snack Baggie
, ~
Glasses Case
, ~
Sew Tablecloth
, ~
Pocket Pillow
---