Dress Up Jeans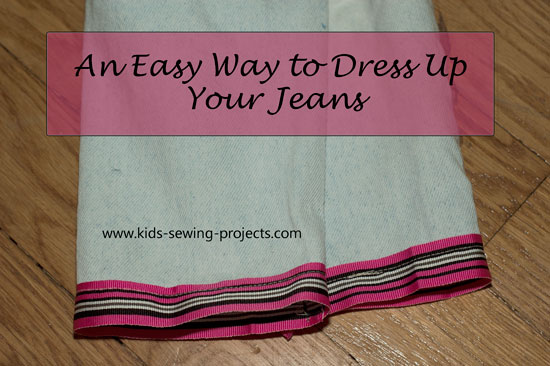 Do you have an old pair of jeans you'd like to dress up? It is easy to spruce up your old jeans just by adding a ribbon trim to the bottom of the pants.

You will need:
Pair of jeans (a pair that is too short works really well)
Wide decorative fabric ribbon
sewing supplies
---
Sewing Materials Available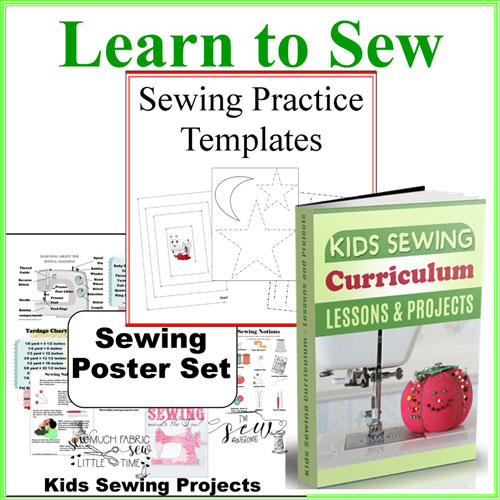 ---
Sewing Ribbon to your Jeans
Cut the hem off the bottom cuff of your jeans. If you'd like them shorter, like capri length, cut where desired length is. Measure a strip of wide ribbon to go along the edges of the cuffs. Pin the ribbon at the bottom cuff overlapping 1/4-1/2 inch.
Sew along the edge to attach. Glue the overlapping end of the ribbon in place with fabric glue or hand stitch closed.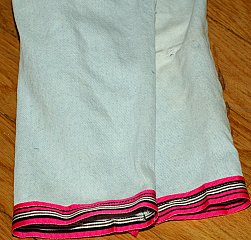 This project is a great way to sew clothes that you may need to fix up.
---
Related Beginning Projects:
~
Beginning Lessons
, ~
Bandanna Tote Bag with an Inside Lining
, ~
Sew a Simple Belt
, ~
Bottle Bag
, ~
Christmas Stockings
, ~
Circle Pillow
,~
Couch Caddy
, ~
Dinner Placemat
, ~
Dress Up Your Jeans
,
Foam Pencil Case
, ~
Gathered Apron
,~
Hair Scrunchy
, ~
How to Sew Drawstring Bags
, ~
How to Sew Tote Bags
, ~
Jean Purse
, ~
Jean Apron
, ~
Lap Desk
, ~
Neck Pillow
, ~
Patchwork Tote Bag
, ~
Patchwork Pillow Cover
, ~
Pillow Cover with Ties
, ~
Pillow with Trim
,~
Pocket Purse
,~
Sew a Pot Holder
, ~
Stuffed Animal
, ~
Stuffed Ball
, ~
T-shirt Drawstring Bag
, ~
Sew a Card
, ~
No Sew Projects
, ~
Sewing Safety
, ~
Felt Patterns
~
Pillowcase Scarf
, ~
Felt Tooth Fairy
, ~
Stuffed Elephant
, ~
Stuffed Monster
,~
Pretty Purse
, ~
Mini Stuffed Dog
, ~
Stuffed Bear
, ~
Baby Receiving Blanket
,~
Baby doll blanket & pillow
,~
Patchwork Skirt
, ~
Reusable Snack Baggie
, ~
Glasses Case
, ~
Sew Tablecloth
, ~
Pocket Pillow
---
Follow Kids Sewing Projects