Easy Heart Pocket Pillow
by Caroline
(Catonsville, MD USA)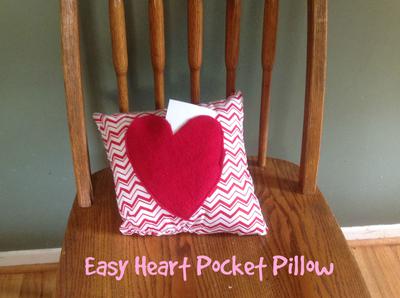 Finished project
This is a fun project that would be great for Valentine's Day, Christmas or a birthday. Add a little note, notebook, candy, or even a small stuffed animal to make a thoughtful gift.

1 fat quarter of fabric or scraps to make 2 10-inch squares
1 scrap of coordinating fleece or felt
fabric marker
thread
polyfill stuffing
sewing supplies: pins, needles, scissors

1. From your choice of fabric, cut out two squares. I used 10-inch squares.

2. Draw a heart on the wrong side of the fleece or felt with the fabric marker. Cut out the heart.

3. Take one fabric square and pin the fleece heart to the right side of the fabric square. Sew it on, remembering to leave the top of the heart open.

4. Put the right sides together and sew around the square using a ½" seam allowance. On one edge of the square, leave a medium sized hole to put the stuffing in.

5. Fill your pillow with stuffing, then sew the opening closed and you are done! Enjoy your new heart pocket pillow!

Options:
• You could use two different fabrics for the front and back of the pillow.
• You could make a different shape for the pocket.
• You could embroider a design or sew on buttons or lace to the fleece pocket before you sew it onto the fabric in step 3.