Dinner Placemat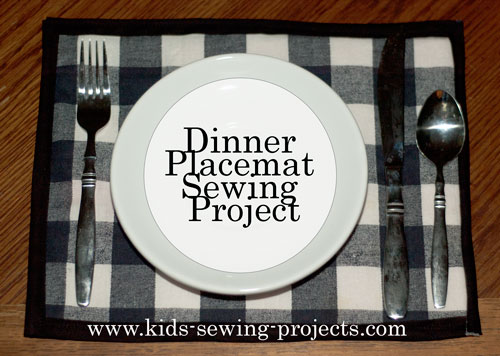 This is an easy way to sew a dinner placemat. You can change this into a seasonal placemat or birthday placemat just by using special fabric.
---
Sewing Materials Available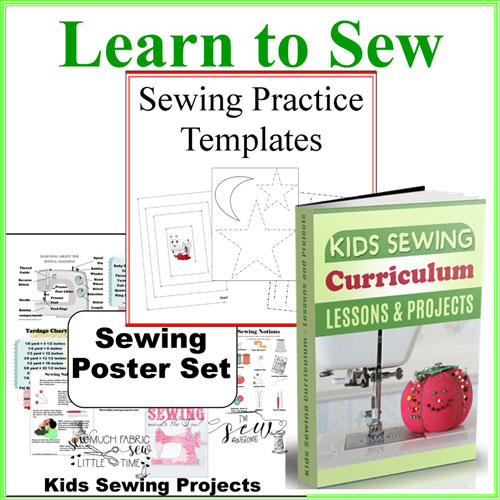 ---
Sewing a Place Mat
You will need:
Place piece of felt in between two pieces of fabric with the fabric right sides facing out. Pin bias tape all around edges.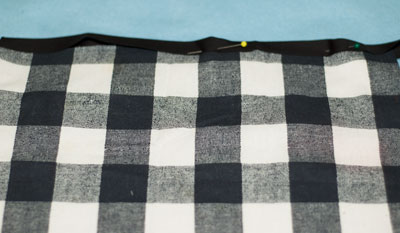 For further directions on
sewing with bias tape see these sewing instructions.
Sew in place. This makes one place mat. To make a matching set, you will need twice as much material. One side of the tape should be on one side of the material and the other side of the bias tape should be on the back side of the material.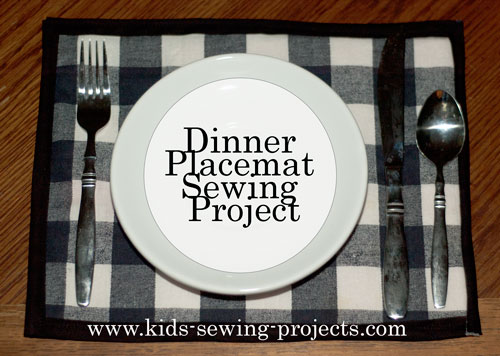 * For a larger size place mat use 13x17 inch fabric and 13 x 17 inch felt.
Placemat with Pocket
For an easy Placemat with Pocket you will need:
2 - 13x 21 inch fabric rectangles, same or coordinating materials
2 - 6x6 inch fabric squares for pockets
sewing supplies
This makes one placemat, if you are making more than one you'll need to have the correct amount of fabric per placemat.
Place pocket squares right sides together. Stitch along 3 sides leaving top open. Turn right sides out. Iron flat. Tuck top edge in slightly and top stitch.
Pin pocket to one rectangle toward the right side of the placemat. Sew along three sides leaving top open for the pocket.
Place the two 13"x21" rectangles right sides together. Sew along sides leaving 1 inch opening. Turn right side out. Tuck edge in and iron flat. Top stitch all around edges.
---
Related Beginning Projects:
~
Beginning Lessons
, ~
Bandanna Tote Bag with an Inside Lining
, ~
Sew a Simple Belt
, ~
Bottle Bag
, ~
Christmas Stockings
, ~
Circle Pillow
,~
Couch Caddy
, ~
Dinner Placemat
, ~
Dress Up Your Jeans
,
Foam Pencil Case
, ~
Gathered Apron
,~
Hair Scrunchy
, ~
How to Sew Drawstring Bags
, ~
How to Sew Tote Bags
, ~
Jean Purse
, ~
Jean Apron
, ~
Lap Desk
, ~
Neck Pillow
, ~
Patchwork Tote Bag
, ~
Patchwork Pillow Cover
, ~
Pillow Cover with Ties
, ~
Pillow with Trim
,~
Pocket Purse
,~
Sew a Pot Holder
, ~
Stuffed Animal
, ~
Stuffed Ball
, ~
T-shirt Drawstring Bag
, ~
Sew a Card
, ~
No Sew Projects
, ~
Sewing Safety
, ~
Felt Patterns
~
Pillowcase Scarf
, ~
Felt Tooth Fairy
, ~
Stuffed Elephant
, ~
Stuffed Monster
,~
Pretty Purse
, ~
Mini Stuffed Dog
, ~
Stuffed Bear
, ~
Baby Receiving Blanket
,~
Baby doll blanket & pillow
,~
Patchwork Skirt
, ~
Reusable Snack Baggie
, ~
Glasses Case
, ~
Sew Tablecloth
, ~
Pocket Pillow
---
---
Related Kids Lessons Projects:
~
Kids Sew Lessons
, ~
Applique Shirt Project
, ~
Bath Mitt
, ~
Binder Cover
,~
Christmas Cone Ornaments
,~
Cloth Basket
,~
Cloth Basket Tray with Ribbon Corners
, ~
Cloth Dinner Napkins or Bread Cloths
,~
Easy Sew Curtains
,~
Fairy Costume
, ~
Headbands
,~
Jean Skirt
,~
Pillowcase Skirt
, ~
Prairie Points
,~
Sew Purse
, ~
Recycle Your Old Tie Projects
,~
Reversible HeadBands
, ~
Shirt into Shorts Project
,~
Shirt and Transform it into a Dress
,~
Tie Pillow
, ~
Tie Skirt
,~
Tiered T-shirt Skirt
, ~
Wall Hanging
, ~
Shorts, how to sew
, ~
Entertainment Bag
---
Follow Kids Sewing Projects