Owl Bath Mitt
by Karen Lawson
(Parrish, FL USA)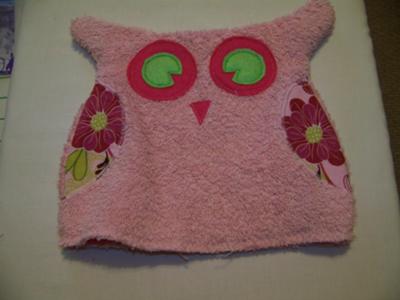 Finished Owl Bath Mitt
Owl Bath Mitt

Skill Level: Intermediate

Supplies Needed:

2 - 8 1/2 X 11 pieces of paper (to draw patterns)
Pencil
3/8 yard of fleece fabric or soft recycled hand terry towel
Fabric and felt scraps
Thread to match
Pins
Seam gauge
Heat n Bond (or any iron on adhesive paper)
Scissors
Iron

Instructions:

1. Take a plain 8 1/2" X 11" piece of paper and fold it in half. It now measures 8 1/2" X 5 1/2". Using the bottom of paper as bottom of your pattern piece, draw an outward curved line about 3/4 of the way up the paper, and then draw the ear of owl.

From the top point of the ear, draw a line slightly slopping downward to the fold in the paper. (See photo to use as your guideline.) Now you should have half of an owl. Cut it out being careful not to cut the folded line. Open paper up and you will see your owl! Mark your pattern piece so you can reuse it later.

2. Using your paper owl pattern, pin and cut two pieces, either of fleece fabric or a hand towel (folded in half). Fleece is the easier of the two choices to work with however; I did not have any on hand and wanted to recycle a hand towel.

Hint, if you use a terry towel, it will shed some. It helps if you zig zag stitch around all the edges of your cut pieces.

3. Now using the finished photo as a guide, draw a circle for outer eye. The one here is about 2 1/8" wide. You could also find something round close to that size for a pattern. Then draw a smaller circle for the inner eye with a triangle slice cut out (kind of like a slice of pizza missing from the whole pie).

The one in the picture measures 1 1/4" wide. These eye circles do not have to be exact measure; just make sure you do not make them too big for the owl's face. Draw a small triangle for the nose pattern. Then look at the finished owl photo to use as a guide and draw a wing shape.

4. Using your felt scraps, pin and cut 2 outer eyes and 2 inner eyes. Cut your triangle nose out of felt also. Cut 2 wings using a scrap piece of fabric. (I used cotton fabric)

5. Following the manufacturer's directions, use your iron on adhesive paper to fuse the owl's eyes, nose and wings on front side of one owl piece. (see photo of layout) Be very careful here as not to melt your felt or fleece. Using a pressing cloth is advised.

6. Now that the face is fused on, it needs to be sewn. It may look all right to leave it like this but one time in the washing machine and the owl may loose his face! Using your sewing machine, stitch a straight stitch around the outer edges of all fused pieces.

You may also hand stitch the outer edges instead if desired. Also, if you have learned or want to try appliqué, you can use the zig zag stitch to stitch around the outside edge of all fused pieces.

7. Now that the owl has a permanent face and wings, place the right sides together of the two owl pieces and pin and outer edge leaving the bottom, straight edge open.

8. Sew front and back of owl together going slow around curves and staying as close to the edge as possible. Use about 1/4" seam line. Don't forget to back stitch at the start and at the end.

9. Turn your owl right side out and carefully poke the ears out with your finger or the eraser end of a pencil. Use a pressing cloth and iron your owl.

10. Now using a seam gauge, fold up the bottom edge 1/2", pin and sew for your hem.

11. Congratulations! You are done! Now go relax in the bath with your owl mitt! You've worked hard, you deserve it!

P.S. This makes a great gift!