Couch Caddy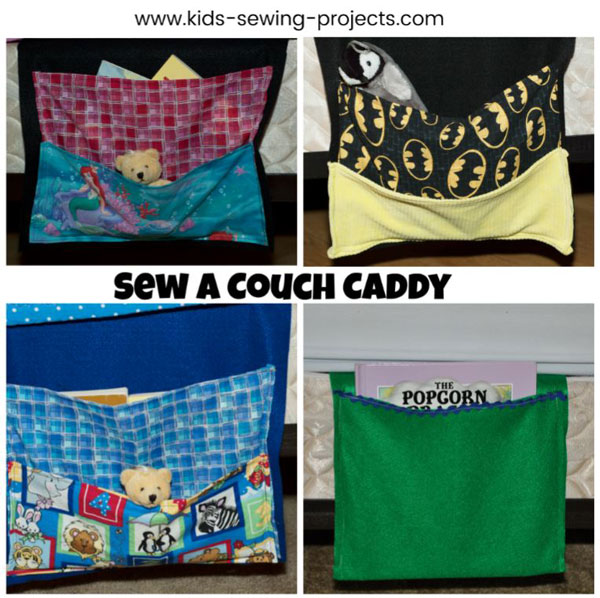 This page gives you two different directions to create a couch caddy. Pick which one works best for you or try both. A caddy can be used to store tv remotes, magazines, books, pens, pencils, crossword puzzle books, etc. You can stuff it with whatever you like to have lying around.
---
Sewing Materials Available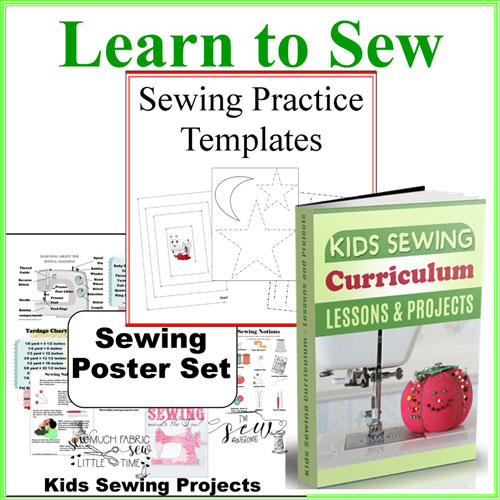 ---
Couch Caddy Sewing Tutorial
To sew this Caddy you will need:
10 x 13 inch fabric
6 x 13 inch coordinating fabric
24x 13 inch coordinating piece of felt
sewing supplies
On your 10 x 13 piece of material, fold top edge down 1 inch and stitch in place. Turn remaining three sides in a ¼ inch and hem. Do the same for the 13 x 6 inch piece.

Pin two pieces to the bottom of your felt with both edges touching the bottom. Sew the three sides of your material to the felt. Sew down the center of the material to create pockets.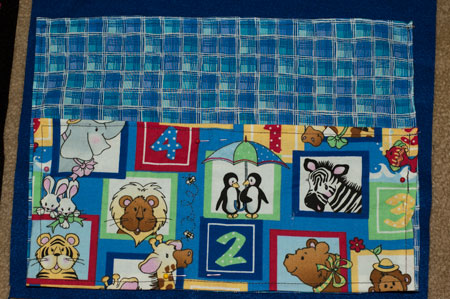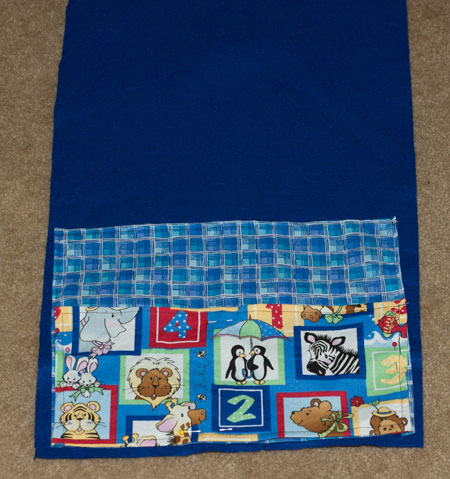 You can also decorate with trim or ribbon along the edges using a hot glue gun or leave as is. Place your reading books, TV remotes, or whatever you'd like in the pockets.
This can also be a bedside caddy by placing between your mattress and box spring.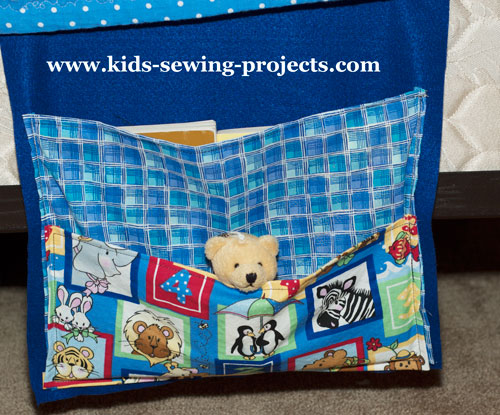 These are fun for kids to design and create a style according to what they like: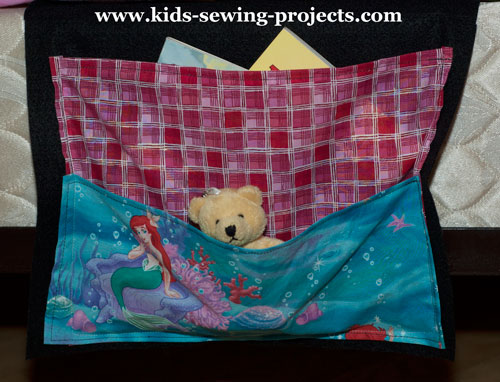 Directions for Easy Couch or Bed Caddy
Here is a simple and quick project for a bed caddy or to use as a couch organizer. These directions just use one long piece of felt.
11 x 36 inch piece of felt
Take your felt rectangle and fold the bottom up 8-9 inches. Pin trim or other accessories on top. Unfold and sew details on.
Hold up again and pin sides. Sew sides. Sew divider up the middle if desired.
---
Related Beginning Projects:
~
Beginning Lessons
, ~
Bandanna Tote Bag with an Inside Lining
, ~
Sew a Simple Belt
, ~
Bottle Bag
, ~
Christmas Stockings
, ~
Circle Pillow
,~
Couch Caddy
, ~
Dinner Placemat
, ~
Dress Up Your Jeans
,
Foam Pencil Case
, ~
Gathered Apron
,~
Hair Scrunchy
, ~
How to Sew Drawstring Bags
, ~
How to Sew Tote Bags
, ~
Jean Purse
, ~
Jean Apron
, ~
Lap Desk
, ~
Neck Pillow
, ~
Patchwork Tote Bag
, ~
Patchwork Pillow Cover
, ~
Pillow Cover with Ties
, ~
Pillow with Trim
,~
Pocket Purse
,~
Sew a Pot Holder
, ~
Stuffed Animal
, ~
Stuffed Ball
, ~
T-shirt Drawstring Bag
, ~
Sew a Card
, ~
No Sew Projects
, ~
Sewing Safety
, ~
Felt Patterns
~
Pillowcase Scarf
, ~
Felt Tooth Fairy
, ~
Stuffed Elephant
, ~
Stuffed Monster
,~
Pretty Purse
, ~
Mini Stuffed Dog
, ~
Stuffed Bear
, ~
Baby Receiving Blanket
,~
Baby doll blanket & pillow
,~
Patchwork Skirt
, ~
Reusable Snack Baggie
, ~
Glasses Case
, ~
Sew Tablecloth
, ~
Pocket Pillow
---
Follow Kids Sewing Projects