Easy Kids Apron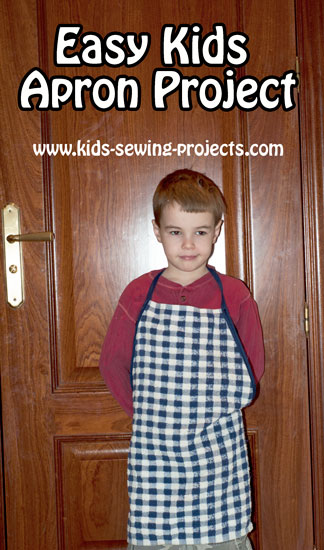 For this easy kids apron you will need:
---
Sewing Materials Available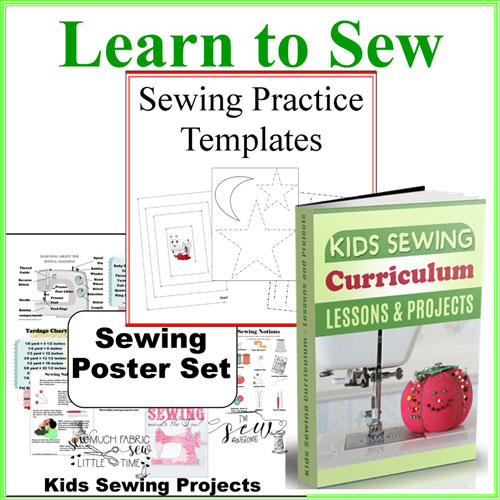 ---
Sewing a Dishtowel Apron
Wash your dishtowel in the laundry before sewing.
Lay your dishtowel flat and fold in half lengthwise.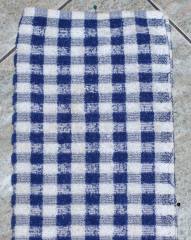 Measure 10 inches from the top and place a pin or use a pencil to mark the spot. Now measure 4 inches from the folded edge. Pin or use a pencil to mark this spot. Cut a straight line through the towel from one pin to the other pin.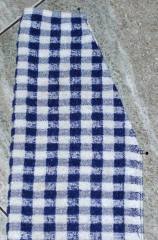 Unfold and lay open. Fold your bias tape in half meeting the ends together. This will help you find the very middle of the tape. Measure 6 inches down from the middle and pin on each side.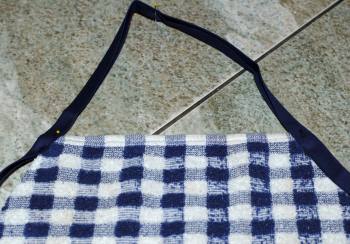 Make sure this will be long enough or not too long to go around the neck. This is how you use bias tape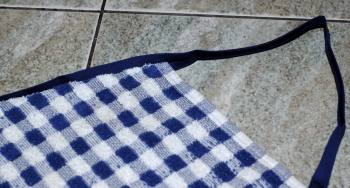 one side should be on one side of the towel and the other side of the bias tape
should be on the back side of the towel.
Here is more
sewing instruction on using bias tape.
Continue pinning along sides of apron. Starting at one end of the bias tape sew together. Either hand sew with a straight running stitch along the edges of the tape, or sew using the sewing machine.
Remove pins as you sew along. Tie a knot in the bias tape at each end. If you would like pockets use a longer towel and fold the end of your apron up a few inches and sew along side edges.
More Apron Projects
You can find more directions on how to sew an apron at the following links:
Directions on sewing an easy pillowcase apron.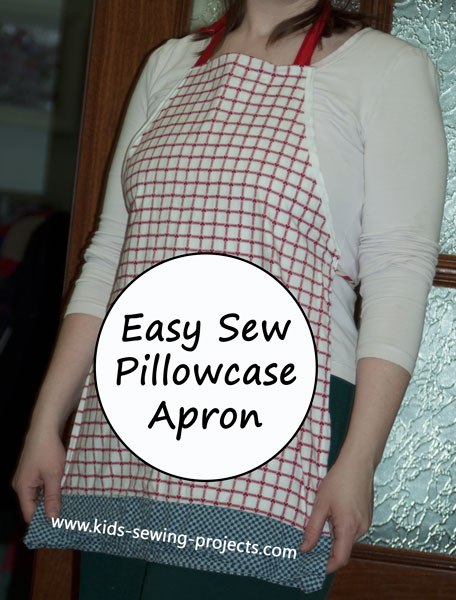 Directions on sewing a skirt apron.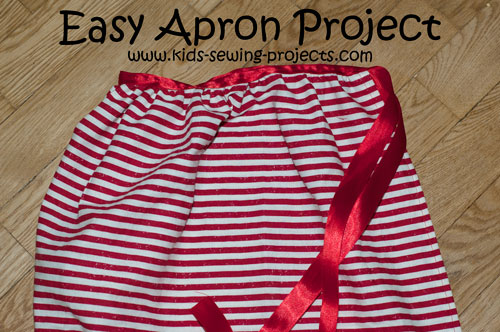 Recycle an Old Pair of Jeans into an Apron Project
---
Related Beginner Projects:
~
Pre Beginner Lessons
, ~
Sew Bean Bags
, ~
Cell phone holder
, ~
Sew ornaments
, ~
Easy Snowman Craft
, ~
Easy Dishtowel Apron,
~
Felt Organizer
, ~
Fleece Hat
, ~
Heating Pad
, ~
How to sew a pillowcase
, ~
iPod holder
, ~
Potpourri pillows
, ~
Pillowcase Apron,
~
Pin Cushion
, ~
Rectangle shape pillow
, ~
Traveling Sew Kit
, ~
Stuffed Kittens
,
T Shirt Fringe Bag
~
Tie Belt
, ~
Stuffed Fatties Ball Animals,
, ~
Mouse Cat Toy,
~
Hand Sew Potholder
,
---
Follow Kids Sewing Projects