Pin Cushion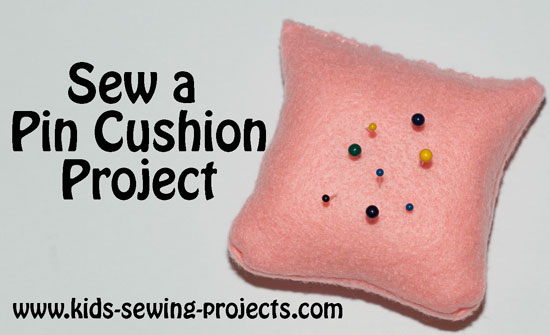 Start your sewing kit with this easy kid's beginning sewing projects.
You will need:
Felt 4x4 inches
Batting-You can stuff sand in your cushion also, about 1/2 stuffing and 1/2 batting. The sand can help sharpen your needles and pins.
---
Sewing Materials Available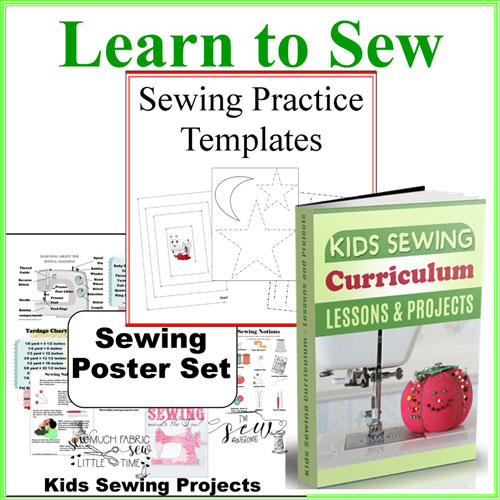 ---
Cut two pieces of felt 4 x4 inches in size. Sew three sides on the sewing machine. Back stitching to secure your stitches. Turn right side out.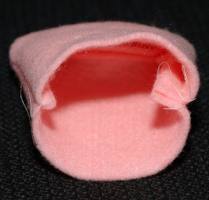 Stuff your cushion with stuffing or batting. Hand sew the end shut. Use this as a pin and needle cushion.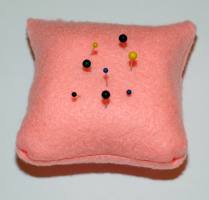 You can also sew along the edges like this one: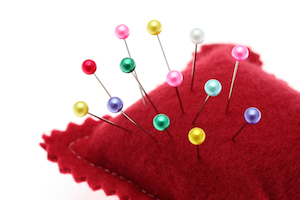 How to Create a Wrist Cushion

You can add a strip of 1/2-1 inch elastic to your cushion. Measure a piece of elastic from one side of the wrist to the other then add a 1/4-1/2 inch more to make it easier to get on. Hand sew each end of the elastic to your cushion. Now you can use this on your wrist while you sew.
Easy Mini Pin Cushions
You will need the following:
3 inch circle cut out of material
trim, rick a rack, ribbon, other design embellishments
hot glue gun
soda bottle cap
sewing supplies
For each mini cushion cut out a 3 inch circle. You can use a wide glass or a canning jar lid for a pattern.
Gather stitch along sides of circle. Gather together. Stuff with batting.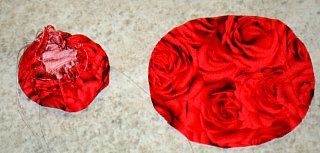 Pour hot glue in a bottle cap and insert ends of gathered material.

Decorate edges of bottle cap. Allow to dry.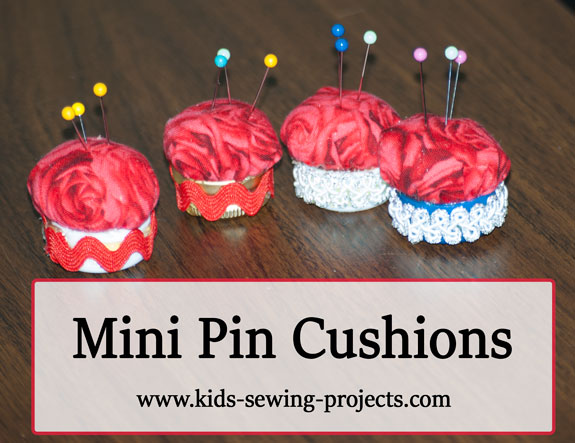 This is a fun sewing project you can add to other
sewing notions
for a
sewing kit.
---
Related Beginner Projects:
~
Pre Beginner Lessons
, ~
Sew Bean Bags
, ~
Cell phone holder
, ~
Sew ornaments
, ~
Easy Snowman Craft
, ~
Easy Dishtowel Apron,
~
Felt Organizer
, ~
Fleece Hat
, ~
Heating Pad
, ~
How to sew a pillowcase
, ~
iPod holder
, ~
Potpourri pillows
, ~
Pillowcase Apron,
~
Pin Cushion
, ~
Rectangle shape pillow
, ~
Traveling Sew Kit
, ~
Stuffed Kittens
,
T Shirt Fringe Bag
~
Tie Belt
, ~
Stuffed Fatties Ball Animals,
, ~
Mouse Cat Toy,
~
Hand Sew Potholder
,
---
Follow Kids Sewing Projects