Draft Critter
Stuffed Critter Project for Level 1, Pre-Beginner sewing lessons. This stuffed animal is great practice at hand sewing.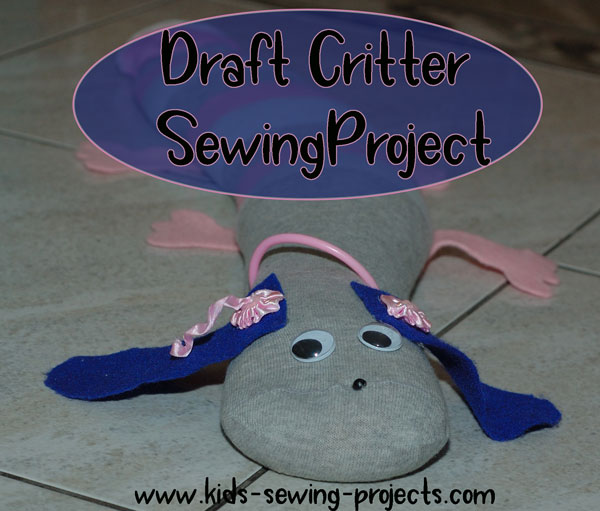 ---
Sewing Materials Available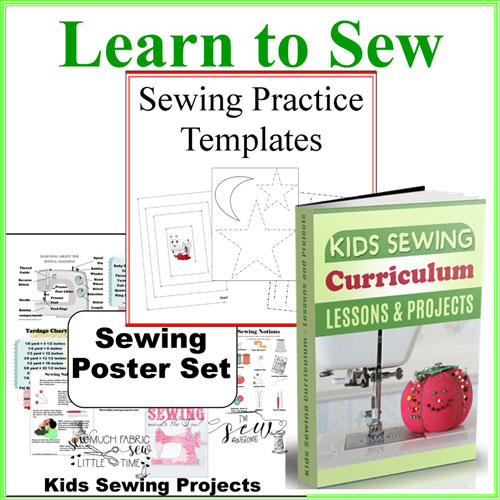 ---
Sewing Stuffed Critters
You will need:
Women's tights or tight knee high socks
Rice, wheat or beans
Felt, wiggle eyes or other decorative things, if desired
Glue
If using tights, cut the top off to make a long straight leg. Fill the empty sock with rice or other fillers. Use a funnel for easier pouring. Gather the end of the sock together and hand sew shut.

Decide what kind of critter you are making such as a dog, snake, pig, etc. Glue on wiggle eyes or make eyes out of felt. Cut out other felt pieces to decorate however you choose. Sew pieces on by hand.


Butterfly Critter. Pre-Beginner Kids Sewing Project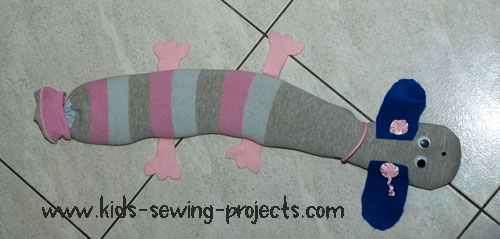 Dog Critter. Pre-Beginner Kids Sewing Project
Mouse Cat Toy
by Cindy (Maine, USA)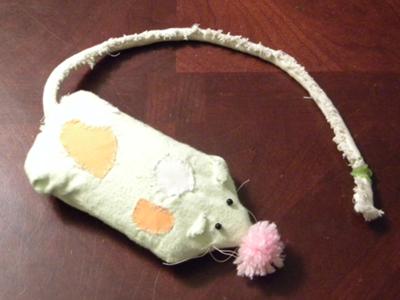 Another fun project similar to the draft critter above.

My daughter decided that she wanted to make a cat toy (even though we don't have a cat) So she went to work, making a little body out of green flannel that she stuffed with old scraps of material to make it more sturdy.

She folded it into the shape she wanted and then sewed it shut on the mouse's belly. Then she took a piece of cording and attached it for the tail. It's nose is a pom-pom we made from extra yarn we had on hand and the eyes are little black beads, the spots are just scraps of material.

I thought her mouse turned out really cute, especially since it was a project she started and finished completely on her own! She liked it so well that she carries it in the pocket of her backpack when she goes to school.

---
Related Hand Sewing Projects:
Pre Beginner Lessons Level 1
, ~
Drawstring Coin Bag
, ~
Basic hand stitches
, ~
Hand Sewing Felt Patterns
, ~
Button Flower
~
Draft Critter
, ~
Felt Bookmark
, ~
Felt Mittens
, ~
Needle Book
, ~
Treasure Stick Bags
, ~
Key Chain Animal
, ~
Puppet Gloves
, ~
Hand sewn teddy bear sleeping bag & pillow
,
~Halloween Totes
, ~
Backpack Charms
, ~
Rag Doll,
~
Button Flower
, ~
Sew Ornaments
, ~
Sew Felt Doll
,
---
Follow Kids Sewing Projects