Button Flower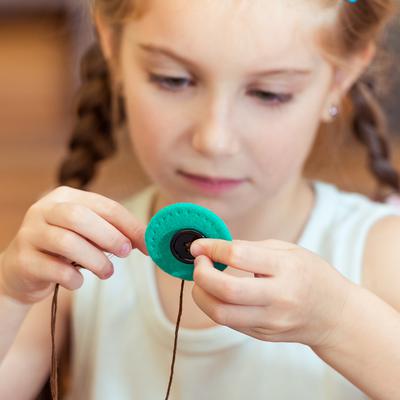 sewing button to middle circle
Cut out several round circles using a jar lid or other round lid for a pattern.

Start with the smallest circle and hand sew a matching button in the middle of the circle.

Take the next largest circle and hand sew around the edges to attach the two circles together.

~You can use zig zag scissors to make a fun edge for the outside circle.



---
Related Hand Sewing Projects:
Pre Beginner Lessons Level 1, ~Drawstring Coin Bag, ~Basic hand stitches, ~ Hand Sewing Kits, ~ Draft Critter, ~ Felt Bookmark, ~ Felt Mittens, ~ Needle Book, ~ Treasure Stick Bags, ~Key Chain Animal, ~Puppet Gloves, ~ Hand sewn teddy bear sleeping bag & pillow, ~Halloween Totes, ~Backpack Charms, ~Rag Doll, ~Button Flower, ~Sew Ornaments, ~Sew Felt Doll, ~Felt Patterns
---
---
Sewing Materials Available

---
Copyright 2007-2018, Madson Web Publishing, LLC - All rights reserved. The material on this site is for educational purposes only.