Button Flower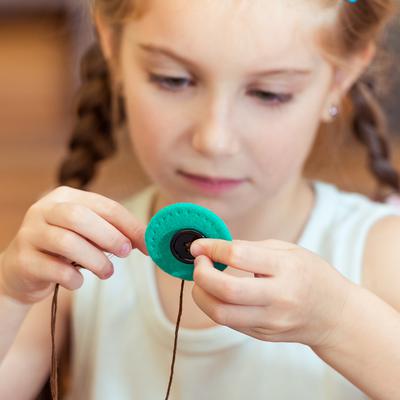 sewing button to middle circle
Using felt or foam, cut out several round circles using a jar lid or other round lid for a pattern.

Start with the smallest circle and hand sew a matching button in the middle of the circle.

Take the next largest circle and hand sew around the edges to attach the two circles together.

Also create flower shapes and attach buttons to the middle.

~Now try creating some of your button flowers into bookmarks, like this felt bookmark project.


---
Related Hand Sewing Projects:
Pre Beginner Lessons Level 1, ~Drawstring Coin Bag, ~Basic hand stitches, ~Hand Sewing Felt Patterns, ~Button Flower~ Draft Critter, ~ Felt Bookmark, ~ Felt Mittens, ~ Needle Book, ~ Treasure Stick Bags, ~Key Chain Animal, ~Puppet Gloves, ~ Hand sewn teddy bear sleeping bag & pillow, ~Halloween Totes, ~Backpack Charms, ~Rag Doll, ~Button Flower, ~Sew Ornaments, ~Sew Felt Doll,
---