Treasure Stick Bags
These treasure stick bags are simple to make and kids can keep small treasures inside. It is a perfect kids sewing project for those young sewers who are learning to hand sew. The outside stitching adds character to the bags.
---
~This post contains affiliate links and I'll earn a small commission if you shop through them. There is no extra cost to you. This is how we help support our family and continue to bring you amazing content. To learn more see the
affiliates disclosure here.
~
---
You will need:
One piece of felt per bag, 4 ½ x 11 inches (you can vary the length if desired)
Thread and needle
Small stick
Yarn, thin rope or twine
Beads, buttons or decorative patches, if desired

Lay your felt out flat and fold 4-5 inches of the bottom up.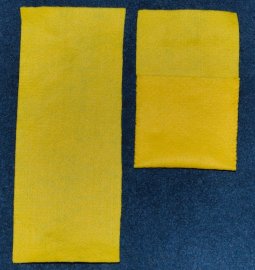 Sew along the edges of the felt leaving the top open. Use a whip stitch which is done by poking your needle through the fabric and wrapping around edges of the fabric. Place a stick on the top of the pouch where you will fold the felt over to make the top.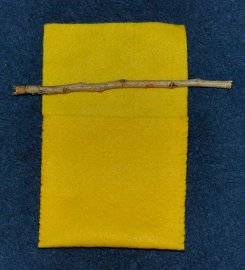 Sew the stick to the top of the felt. Tie the end of your string to the ends of the stick on each side. Decorate with beads, buttons or artwork if desired.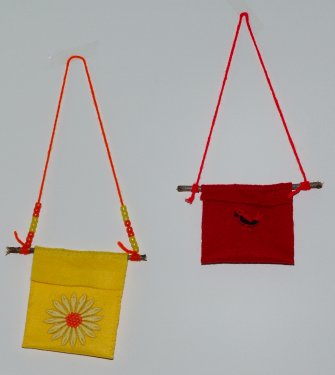 Here are two treasure stick bags. The yellow is with a 4 1/2 x 11 inch piece of felt. The red is with a 4 1/2 x 8 inch piece of felt.
Foam Purse
by Mary Ruthven (Palm Coast, FL.)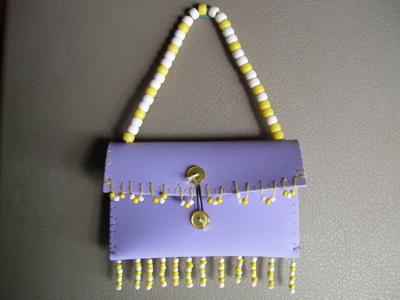 Another fun purse idea similar to the treasure stick bags above.
Items Needed:
1 sheet of foam (appx. 5X7")your choice of color
Mini beads (your choice of colors)
Pony beads (your choice of colors)
String for handle (length depends on how long you want it)
Small piece of thin elastic for closure
2 buttons
Needle and thread

Here's a fun project with simple stitching and you can make it using any color foam and beads. Maybe in your school colors and you can use letter beads to spell out words such as your name or favorite team!

Take a foam sheet (approx. 5 x 7) and fold bottom up about 3/4 of the way. Take the remaining amount and fold it over the top, which will be the flap of the purse.

Draw a line on the inside where the bottom fold will be. Open foam and stitch mini beads across the top flap. Thread mini beads and attach to bottom of purse, working your way across the line you drew. Be sure the line will be inside the purse where it does not show.

Fold foam into purse shape and hold closed with your hand. Stitch around the two sides. Remember that you are working with foam so don't pull too hard like you can with material. Knot at the end.
Now take the piece of thin elastic and tie the ends in a knot.

Place it in the center on the flap and lay button on top. Sew the button on making sure you sew a few times through the elastic.Close flap and determine where the other button needs to be. You want it far enough down so elastic holds purse closed firmly but not to much where it causes foam to rip when used.

Sew other button on. Slide pony beads onto your string and knot both ends. Sew each end onto purse for the handle.

Congratulations! You just made an original purse. This would make a great project for girl sleepovers!



---
Related Hand Sewing Projects:
Pre Beginner Lessons Level 1
, ~
Drawstring Coin Bag
, ~
Basic hand stitches
, ~
Hand Sewing Kits
, ~
Draft Critter
, ~
Felt Bookmark
, ~
Felt Mittens
, ~
Needle Book
, ~
Treasure Stick Bags
, ~
Embroidered Animals
, ~
Key Chain Animal
, ~
Puppet Gloves
, ~
Hand sewn teddy bear sleeping bag & pillow
,
~Halloween Totes
, ~
Backpack Charms
, ~
Rag Doll,
~
Button Flower
, ~
Sew Ornaments
, ~
Sew Felt Doll
, ~
Felt Patterns
---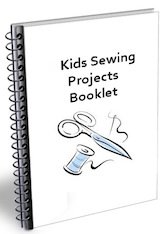 Would you like our sewing lessons and projects in an ad free, easy to read format?
Our curriculum ebook has over 100 projects and all our sewing lessons to teach kids (or adults) to sew.
Perfect for teaching!