Cell Phone Holder
To sew a cell phone holder you will need:
felt
or
fleece
material, cut in a 13 x 2 1/2 inch rectangle
Scraps of material, trims, beads, fringe, decorative patches
32 inches cord,
ribbon
or strap
---
~This post contains affiliate links and I'll earn a small commission if you shop through them. There is no extra cost to you. This is how we help support our family and continue to bring you amazing content. To learn more see the
affiliates disclosure here.
~
---
For your phone holder you will fold up the bottom of your rectangle 5 inches. This will give you a flap that is 3 inches. Before sewing together decorate the bottom 5 inches on the front and back as you'd like. You can add fringe or trim to the edges or top flap, or applique different scraps of material. Design your cell phone bag however you'd like.
When done decorating fold up the bottom of your rectangle as stated above. Sew two side edges.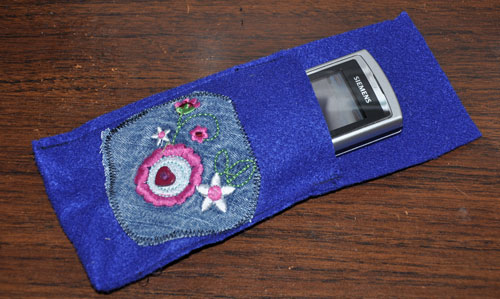 Hand sew cord on each side of the holder. Make your cord strap as long or as short as you'd like. Measure on your arm where you'd like the bag to hang.


To finish, cut a slit on the top flap and sew a button underneath. That is all it takes to sew a purse or bag for a cell phone.


---
Related Beginner Projects:
~
Pre Beginner Lessons
, ~
Sew Bean Bags
, ~
Cell phone holder
, ~
Sew ornaments
, ~
Easy Snowman Craft
, ~
Easy Dishtowel Apron,
~
Felt Organizer
, ~
Fleece Hat
, ~
Heating Pad
, ~
How to sew a pillowcase
, ~
iPod holder
, ~
Potpourri pillows
, ~
Pillowcase Apron,
~
Pin Cushion
, ~
Rectangle shape pillow
, ~
Traveling Sew Kit
, ~
Stuffed Kittens
, ~
Tie Belt
, ~
Stuffed Fatties Ball Animals,
, ~
Pen Holder
, ~
Mouse Cat Toy,
~
Hand Sew Potholder
---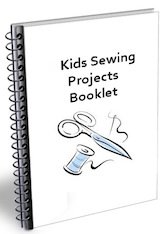 Would you like our sewing lessons and projects in an ad free, easy to read format?
Our curriculum ebook has over 100 projects and all our sewing lessons to teach kids (or adults) to sew.
Perfect for teaching!