Sew Goodie Bags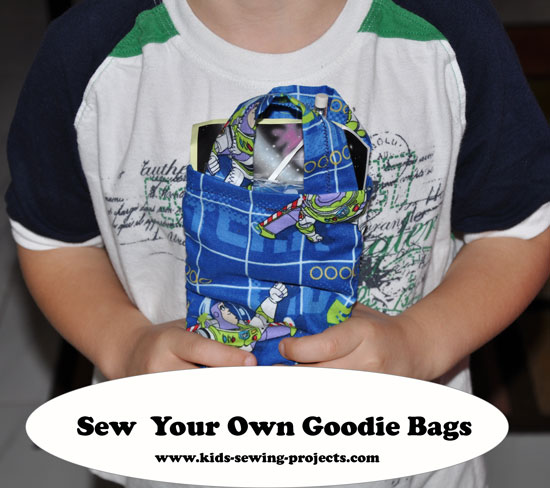 This sew goodie bags tutorial adds a touch of fun to a birthday party. Not only can kids go home with a unique bag filled with party favors, they can reuse the bag over and over. It is a simple bag such as our
tote bag instructions
but a smaller size. We'll go through the directions below.
---
Sewing Materials Available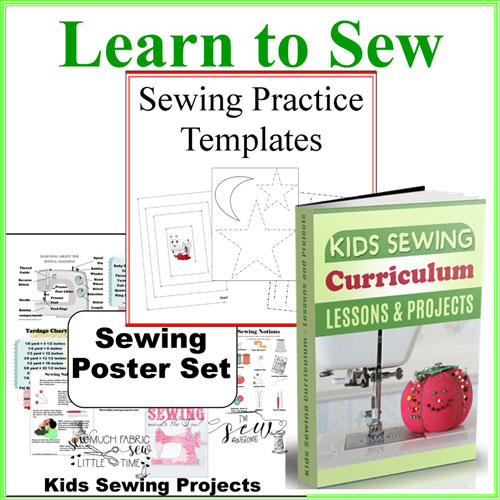 ---
How to Sew Goodie Bags for Parties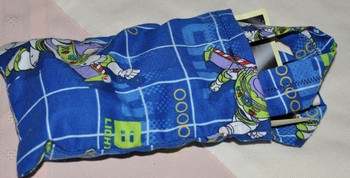 You will need
to sew these goodie bags:
For each bag, two pieces of fabric cut 9x7 inches.
For the straps, two pieces of fabric 8 x 2. Or you can use ribbon,1-2 inches wide and 8-9 inches long
Place right sides together on two bag pieces. Sew along three edges leaving the top open. Set aside and sew straps.
If using a strip of fabric, 10x3 inches, Fold your long edges into the middle one overlapping slightly the other. Pin in place down the middle. Sew zigzag or straight stitch down the middle enclosing the edges in your seams. Repeat with second strap. If using ribbon you can skip to step 3.
Taking your bag, turn right sides out and fold top edge down 1/4 inch. Add strap or ribbon end to your folded edge and fold down again enclosing strap within the fold. Pin in place. Making sure strap is pointing up. Sew top edge taking out pins as you go.
That's it! Continue process until you have a bag for each party guest and perhaps a few extras.
Stuff with party favors.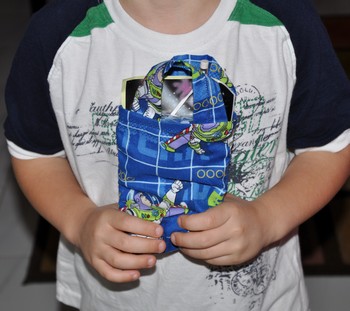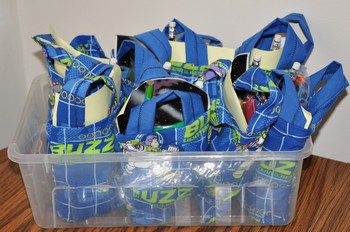 Goodie Bags for a space party.
~Try sewing your own goodie bags and customize your fabric to match the theme of your party.
---
Need a fun hand sewing project?
Felt Sewing Patterns!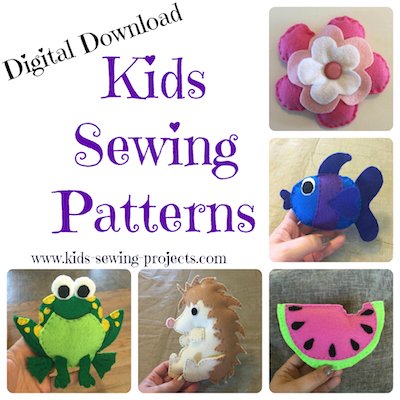 20+ Party Favor Ideas that aren't Candy
Do you need some ideas on what to stuff inside these fun little bags? You can really have fun with these and a lot of the ideas can come from the children's ages and party theme. Here are some ideas we like to do that doesn't involve candy!
stickers or sticker sheets

pencils
erasers
little notebooks
bouncy balls
silly bands
bracelets
necklaces
beads
craft kits
little cars
horn blowers
balloons
lip gloss
disposable camera
sunglasses
plastic toys such as soldiers, dinosaurs, dogs, etc.
key chains
rulers
stamps

small puzzles
Follow Kids Sewing Projects