Sew a Baby Receiving Blanket
You will need for this baby receiving blanket:
1 yard or 2 yards for double sided receiving blanket
These are easy instructions on how to sew a blanket.
Cut material into 36 x 36 inch squares. For a one sided blanket, which is often how a receiving blanket is made, use only one square. Turn edge down ½ inch and ½ inch again. Pin in place and sew around edges, taking out the pins as you go.
~Try a decorative stitch around sides for fun.
For a double sided receiving blanket, use two squares. Place right sides together and sew three edges. Turn right sides out and turn remaining edge in. Pin. Top stitch around all edges.

You can also do this with fleece material. Cut a 36x36 inch square and hem edges as directed above for a one sided blanket or
blanket stitch
around the edges.
Add a trim to your blanket
Cut out material using the dimensions above or as you'd prefer. You will need two pieces the same size. On one piece of fabric, pin ribbon, ric rac, or lace 1 inch from edge. In the corners double up and continue to pin down the edge.
Sew edge of ribbon to fabric.
Add second piece of fabric on top of the sewn piece with right sides together. Pin edges together. Sew pieces together at the edge of ribbon. Leave a 2 inch opening for turning right sides out.
Pull blanket inside out through opening. Iron flat. Tuck in opening edges and sew. Continue top stitching along all edges. Top stitching is just sewing a simple stitch along the top of the project.
You can change this project into a burp cloth by making it smaller such as 20x12 inches.
---
Related Beginning Projects:
~
Beginning Lessons
, ~
Bandanna Tote Bag with an Inside Lining
, ~
Beach Towel Bag
, ~
Sew a Simple Belt
, ~
Bottle Bag
, ~
Christmas Stockings
, ~
Circle Pillow
,~
Couch Caddy
, ~
Dinner Placemat
, ~
Dress Up Your Jeans
, ~
Gathered Apron
,~
Hair Scrunchy
, ~
How to Sew Drawstring Bags
, ~
How to Sew Tote Bags
, ~
Jean Purse
, ~
Jean Apron
, ~
Lap Desk
, ~
Pencil Case
, ~
Neck Pillow
, ~
Painted Tote Bag
, ~
Patchwork Tote Bag
, ~
Patchwork Pillow Cover
, ~
Pillow Cover with Ties
, ~
Pillow with Trim
,~
Pocket Purse
,~
Sew a Pot Holder
, ~
Stuffed Animal
, ~
Stuffed Ball
, ~
Tshirt Drawstring Bag
, ~
Sew a Card
, ~
No Sew Projects
, ~
Sewing Safety
, ~
Practice stitches sheet, pdf
, ~
Pillowcase Scarf
, ~
Felt Tooth Fairy
, ~
Patchwork pillows
, ~
Stuffed Elephant
, ~
Placemat Travel Bag
,~
Stuffed Monster
,~
Pretty Purse
, ~
Make a sewn bookmark
, ~
Mini stuffed Dog
, ~
Stuffed Bear
, ~
Baby Receiving Blanket
,~
Baby doll blanket & pillow
,~
Patchwork Skirt
, ~
Reusable Snack Baggie
, ~
Glasses Case
, ~
Clothespin Bag
, ~
Sew Tablecloth
---
Kids Curriculum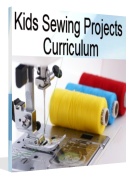 Would you like our sewing lessons and projects in an ad free, easy to read format?
Our curriculum ebook has over 100 projects to teach kids (or adults) to sew.
Perfect for teaching!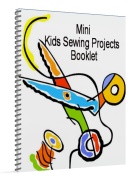 Join the
Kids Sewing Club
and receive a free projects ebook.