Kids Sewing Machine
Include on this kids sewing machine page:
History of the machine
What to look for when buying a machine
Sewing Machines for children
History of the Sewing Machine
The sewing machine has a rough history. Before the machine was invented everything was sewn by hand. If you look closely at your shirt, skirt, pants and any cloth item, you will notice what a chore this must have been years ago.
Now a days it is simple to buy a new shirt or tablecloth at the store and not think twice about how it was sewn.
The sewing machine had a rough history of trial and error before it became what we use today. There are several inventors who claimed to have invented the machine. The first to have it patented was Elias Howe.
Singer was the first to manufacture and sell the sewing machine. What once was a long time consuming job (sew by hand) became something quick and easier, thanks to the invention of the sewing machine.
What to Look for When Buying a Sewing Machine
You will find when shopping for machines that there is a large variety of features. Here are 10 must have accessories when buying a sewing machine.
A bobbin that is easy to wind and install
Machine is easy to thread and not complicated to use.
The sewing machine needle is easy to replace. (Most are taken out by a screw or screwdriver.)
Variety of stitches which include straight stitch, zigzag stitch, and several more.
Seam guides on the side of your presser foot. These are labeled at 1/4", 1/2", etc.
Reverse stitching.
A foot pedal
Machine looks sturdy and not made of cheap plastic.
Machine comes with a manual.
Tension and pressure is adjustable with dials.
Kids Sewing Machines for Children
There are simple kids sewing machines on the market that are made from plastic. I personally haven't tried these but my first thought is, if you want to have a machine for children that will last longer, you might be better off buying a higher end model.
These simple kids machines might be good for beginning to learn to sew but you will soon need to buy a bigger machine that can do more, if your kids really enjoy sewing and want to do this long term.
We've done some research of our favorites or what others have told us are their favorites. Here are some of our recommendations.
You can also go to a fabric store and look at the variety of machines. They will have lots to choose from and you should be able to sew on a scrap material.
You can read sew machine reviews online in places such as Amazon or Joann's. Click on the machines below and most will have customer reviews you can read.
Where to buy a Sewing Machine?
Everyone including myself loves shopping at Amazon, and yes
Amazon does sell sewing machines.
I like that you can read all the reviews before buying a machine as well.
What kids sewing machine do you recommend?
Why do you recommend this sewing machine?
What Other Visitors Have Said
Click below to see contributions from other visitors to this page...

BabyLock Anna

Hello- I am one of the few sewing teachers left in public education. Do not buy anything very cheap, as these are considered a throw away machine. …
John Lewis Sewing Machines Not rated yet
Whatever you do, do not buy a sewing machine from John Lewis or Walmart, they are all rip-offs! I bought a cute pink one that was supposed to last for …
Brother CS 6000 Not rated yet
Make sure sewing machine is easy to thread and has a manual. ~I also have the Brother 6000 and I really like it. Brother is a great brand of sewing …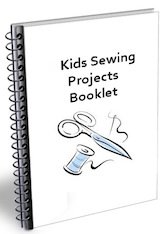 Would you like our sewing lessons and projects in an ad free, easy to read format?
Our curriculum ebook has over 100 projects and all our sewing lessons to teach kids (or adults) to sew.
Perfect for teaching!