Cupcake Kiss
by Mary
(Palm Coast, FL USA)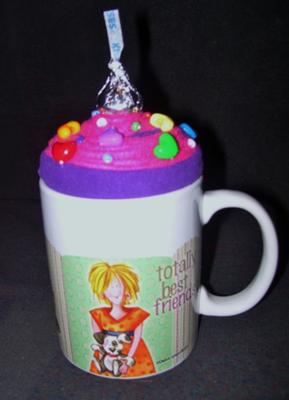 cupcake kiss
Materials Needed
Felt or Fleece in your choice of colors
Beads for sprinkles
Hershey kiss
A pretty mug
Copy of poem (optional)
Photo (optional)

Directions
Felt or fleece work great in this project. They both do not fray and are a thicker material but you can use whatever material you choose. Regular type of material will require more length to produce the roll and you will have to fold over the strips so no raw edges show.

Cut strips approx. 3-4" wide. The amount of strips will depend on how big your mug is. Just keep rolling them until you have a roll that fits snugly in the mug. Start with one strip and roll it tightly. Pin the end on the roll so you can cut another.

This way you can cut strips as you go and won't end up with much extra leftover. You do not have to sew the end of each strip to the roll. Just lay new strip on so it overlaps the last one a little and continue to roll. Pin each one down before letting go of the roll when you need to cut another strip. Mix up colors for a pretty design.

When the roll starts to look like it is big enough, test fit it into the mug. You want it to fit tightly into the mug. When the roll is of the correct size, stitch the end edge to the roll. Pick what side you want the bottom to be and gently push the center up. You want it to look like a little tower, just like a real cupcake puffs up in the center when it cooks.

Place the mug on a piece of felt and trace around it. Cut out the circle and sew it to the bottom of your cupcake. This will make the cupcake look nicer if they take it out of the mug to use as a pin cushion. Just pin it to the bottom and whip stitch all around the edge.

Pick out what kind of beads you want to use as sprinkles. I used heart shaped and seed beads on mine. Sew them on all over the cupcake top.Take a toothpick and gently push it into the bottom of a Hershey Kiss. Put a little glue on the end of the toothpick and slide it into the middle of your cupcake at the very top.

Put the cupcake inside the mug about halfway down so the top part is sticking out of it. If you are going to use the poem, print it out on a computer or copy it by hand writing, which is always nice to do.You can change the word "Christmas" at the bottom of the poem to Valentine, Birthday, Anniversary, etc. to fit any occasion.Or just use the word "Chocolate".

If you are using a photo also, you can glue it to the poem or hang it from the handle of the mug like a tag.You can also attach the photo to a stick and have it standing up in the mug You can slide the cupcake mug into a gift bag and tie the top with a ribbon,if you like.

Congratulations! You just made someone a very sweet gift!

POEM
Heres a very special cake
I made it just for you
It's just my way to say thank you
For all the things you do

First I gently poured 2 cups of love
Then mixed it with a hug
Tossed on sprinkles of kindness
And poured it in a mug

Next came my most favorite part
This one I couldn't miss
Because your the best Mom in the world
So I'm giving you a Christmas kiss!


---
~This post contains affiliate links and I'll earn a small commission if you shop through them. There is no extra cost to you. This is how we help support our family and continue to bring you amazing content. To learn more see the
affiliates disclosure here.
~
---
Would you like our sewing lessons and projects in an ad free, easy to read format?
Our curriculum ebook has over 100 projects and all our sewing lessons to teach kids (or adults) to sew.
Perfect for teaching!