After School Sewing Class Projects
by Ruth Fox
(Piggott, Arkansas)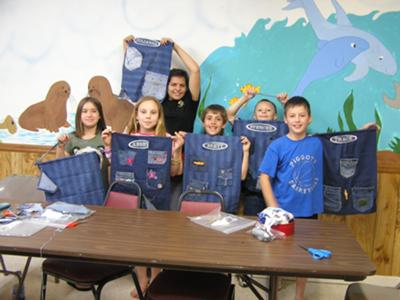 First General Baptist After School Program Sewing Class
Jackie and I had been discussing the fact that many kids and some parents today can't sew on buttons. So we decided to try our hand at teaching kids the basics and still have some fun with it.

This was a first for all of us. The sewing class was offered to kids that are in the after school program, it was one day a week and they had to have all their school work done before they could come in and work on their project.

The class went quite well, much to our surprise, we had a good response and the kids want to do it again this year.

We did several projects, The first was a smiley pillow which they learned to sew on buttons for the eyes, and running stitches for mouth etc. and then stuffed and hand sewed together, we then took pictures of each child with their pillow to be used on the second project.

The second project was a picture frame made from empty plastic CD cases, we took heavy card stock and made a border design that they cross stitched then decorated the outside of the frame with some embellishments then put the picture of themselves with their pillow in the frame.

The last project was a wall organizer, they were to incorporate at least 2 buttons (4 hole and 2 hole), cross stitches, running stitches and blanket stitches. We encouraged the kids to to use their imagination and be creative on designing their wall organizer. We used old jeans and left over jean fabric and odds and ends of things that we had laying around. We did machine embroider each child's name on a patch that they had to sew on by hand. Some were not quite finished when we took the picture and three kids were missing from the picture.

I think the kids did a great job considering that this was their first attempt on something like this, plus this was the first time for Ms. Jackie and myself to try our hand at teaching.