Making A Bookmark
by Emily Barrett
(Normanton)
Draw a rectangle template.
Cut two out of a fabric or felt of your choice.
Sew a pattern or embroider your name onto one rectangle.
Put a bit of card (thick x1 or thin x2) in between and sew the edges together by machine or hand.

Well done!


Editor's Note:
Thanks Emily for your bookmark project. I love how you can personalize it by hand sewing a pattern or name on it before sewing it together.

I added pictures for this project to show readers how to sew the bookmark together.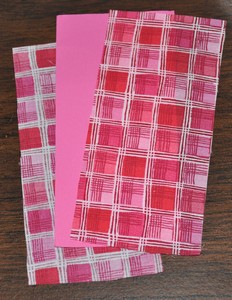 Layer a piece of fabric with right side down, a piece of cardstock and another piece of fabric with right sides out. Hold together and sew along edges. Our bookmark was 2 1/2 x 5 1/2 inches but you can make it the size you'd like.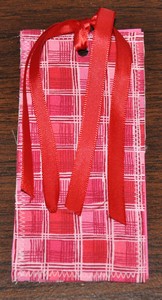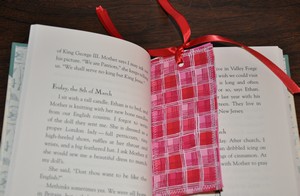 ---
Related Beginning Projects:
~Beginning Lessons, ~Bandanna Tote Bag with an Inside Lining, ~Beach Towel Bag, ~Sew a Simple Belt, ~Bottle Bag, ~Christmas Stockings, ~Circle Pillow,~ Couch Caddy, ~Dinner Placemat, ~Dress Up Your Jeans, ~Gathered Apron,~Hair Scrunchy, ~How to Sew Drawstring Bags, ~How to Sew Tote Bags, ~Jean Purse, ~Jean Apron, ~Lap Desk, ~Pencil Case, ~Neck Pillow, ~Painted Tote Bag, ~Patchwork Tote Bag, ~Patchwork Pillow Cover, ~Pillow Cover with Ties, ~Pillow with Trim,~Pocket Purse,~ Sew a Pot Holder, ~Stuffed Animal, ~ Stuffed Ball, ~T-shirt Drawstring Bag, ~Sew a Card, ~No Sew Projects, ~Sewing Safety, ~Practice stitches sheet, pdf, ~Felt Patterns~Pillowcase Scarf, ~Felt Tooth Fairy, ~Patchwork pillows, ~Stuffed Elephant, ~Placemat Travel Bag,~Stuffed Monster,~ Pretty Purse, ~Make a sewn bookmark, ~Mini stuffed Dog, ~Stuffed Bear, ~Baby Receiving Blanket,~ Baby doll blanket & pillow,~Patchwork Skirt, ~Reusable Snack Baggie, ~Glasses Case, ~Clothespin Bag, ~Sew Tablecloth, ~ Pocket Pillow
---