Making A Bookmark
by Emily Barrett
(Normanton)
Draw a rectangle template.
Cut two out of a fabric or felt of your choice.
Sew a pattern or embroider your name onto one rectangle.
Put a bit of card (thick x1 or thin x2) in between and sew the edges together by machine or hand.

Well done!


Editor's Note:
Thanks Emily for your bookmark project. I love how you can personalize it by hand sewing a pattern or name on it before sewing it together.

I added pictures for this project to show readers how to sew the bookmark together.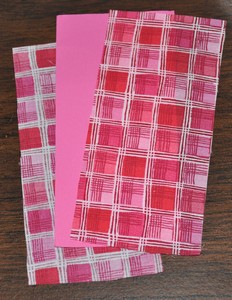 Layer a piece of fabric with right side down, a piece of cardstock and another piece of fabric with right sides out. Hold together and sew along edges. Our bookmark was 2 1/2 x 5 1/2 inches but you can make it the size you'd like.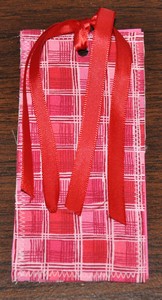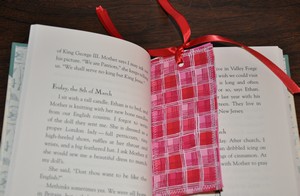 ---
Related Beginning Projects:
~Beginning Lessons, ~Bandanna Tote Bag with an Inside Lining, ~Beach Towel Bag, ~Sew a Simple Belt, ~Bottle Bag, ~Christmas Stockings, ~Circle Pillow,~ Couch Caddy, ~Dinner Placemat, ~Dress Up Your Jeans, ~Gathered Apron,~Hair Scrunchy, ~How to Sew Drawstring Bags, ~How to Sew Tote Bags, ~Jean Purse, ~Jean Apron, ~Lap Desk, ~Pencil Case, ~Neck Pillow, ~Painted Tote Bag, ~Patchwork Tote Bag, ~Patchwork Pillow Cover, ~Pillow Cover with Ties, ~Pillow with Trim,~Pocket Purse,~ Sew a Pot Holder, ~Stuffed Animal, ~ Stuffed Ball, ~T-shirt Drawstring Bag, ~Sew a Card, ~No Sew Projects, ~Sewing Safety, ~Practice stitches sheet, pdf, ~Felt Patterns~Pillowcase Scarf, ~Felt Tooth Fairy, ~Patchwork pillows, ~Stuffed Elephant, ~Placemat Travel Bag,~Stuffed Monster,~ Pretty Purse, ~Make a sewn bookmark, ~Mini stuffed Dog, ~Stuffed Bear, ~Baby Receiving Blanket,~ Baby doll blanket & pillow,~Patchwork Skirt, ~Reusable Snack Baggie, ~Glasses Case, ~Clothespin Bag, ~Sew Tablecloth, ~ Pocket Pillow
---
~This post contains affiliate links and I'll earn a small commission if you shop through them. There is no extra cost to you. This is how we help support our family and continue to bring you amazing content. To learn more see the
Would you like our sewing lessons and projects in an ad free, easy to read format?
Our curriculum ebook has over 100 projects and all our sewing lessons to teach kids (or adults) to sew.