Christmas Kisses Ornaments
by Mary
(Palm Coast, FL USA)
stocking
Directions
Some times it's nice to give neighbors or special people in your lives a little gift to tell them that you are thinking of them. Here's a cute craft and it won't cost much to make a whole bunch!

I chose to use Red Hots Candies and plastic water viles to pour my candy into. These were the perfect size and fit the ornaments well. They can be found in florist sections and I purchased mine in Wal Mart.

You can also use the corner of a baggie. Just pour a small amount in a baggie and twist tie and cut off at corner. You may have to leave the top of each ornament open more to fit the bag in. Or you can use a candy such as life savers and just slip a roll in each ornament. Whatever candy or way you choose to insert them, just be sure to leave the top open enough to fit them in. There are two poems that I wrote and you are free to use them.

Patterns are included at the end.

Poinsetta Flower
Cut out both pieces for flower from red felt. Cut leaf piece from green. When sewing bead to center, first cut a quarter size circle from red felt. Place this in the back of the center of the flower and sew the beads on. This makes the center more solid to hold the beads on. Put both flower pieces together and adjust so petals are in between each other.

Lay leaf in back and With red thread, stitch all places where the two flower pieces meet eac hother. Make a loop of ribbon and sew to top. Lay back flower piece on and line up edges with front flower. Pin together and stitch edges. Be sure to leave top open to insert candy tube.

Gingerbread Boy Ornament
Cut out 2 gingerbreads from tan or brown felt. Take one and sew on black beads for eyes. Sew on 2 buttons. Use white ribbon or rick rack for icing trim around it. I chose to use ribbon and twisted it every 1/2" or so and tacked it down each time.

I also used a small piece for the smile. I knotted it at each end and tacked it on with a few stitches. Make a loop from ribbon and sew to top of head. Place back piece on and stitch the two together. Leave top open to insert candy.

Christmas Stocking Ornament
Cut out 2 stocking pieces from your choice of colors. Cut trim for top from white felt. Sew on other extras such as heart and button to front piece. Sew on white trim to each piece. lay both pieces together and stitch closed. Leave top open to insert candy.

Bell Ornament
Cut out 2 bells. Cut holly from green felt. Sew leaves on one piece. Use a red button or bead for a berry on top of the leaves. Make a loop from ribbon and sew at top. Make a bow from ribbon and sew this at top. Sew bell at the center bottom of the back piece. Put both bells together and sew edges closed. Leave top open for candy.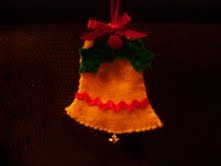 Snowman Ornament
Cut out 2 snowman pieces. Sew on black beads or small buttons for eyes. Cut out a tiny carrot shape from orange felt for nose and sew this on. Use black beads for mouth and sew on. Sew 3 black buttons on front of snowman.Make a loop from a piece of ribbon and sew to top of head on front piece.

Cut a piece of ribbon for arms, approx. 4" long. I used brown ribbon for arms. Tie a knot in the center for hands. Tuck ends in between the two snowman pieces and pin. Sew edges of snowman and tack tops of arms down as you go. Leave top open for candy.

POEM ONE
Santa knows who's good or bad
Of this he never misses
Your name is on his good boys list (good girls)
So he sent you red hot kisses!

POEM TWO
When Santa landed on the roof
He never saw the ice
The reindeer did a two step
Which didn't look so nice

I rushed outside to help him
Put the gifts back in the sleigh
Then he got himself together
And went merrily on his way

He left a note and special bag
It read, "Please do not miss
Give each good boy and each good girl
A big ol' Santa kiss!


You can download the Christmas Kisses Ornament Patterns here.
---
---
Copyright 2007-2018, Madson Web Publishing, LLC - All rights reserved. The material on this site is for educational purposes only.