Cat Quilt
by Syn Ferguson
(Camas, WA)
Recycled Flip and Sew Quilt for Cats
Recycle scraps and a worn
fabric
placemat into a quilt for a kitty waiting for adoption at your local Humane Society or cat rescue organization.
You'll need an old placemat and some cotton fabric scraps. It's okay to use old shirts, T-shirts, sweatshirts or jeans.
If the placemat is already quilted, you can start your patchwork right away. If it is only one piece of fabric, cut a piece of soft fabric, such as batting, fleece or a piece from an old sweatshirt and put it on top of the placemat.
1. Place a four-sided scrap (any shape) right side up approximately in the center of the placemat.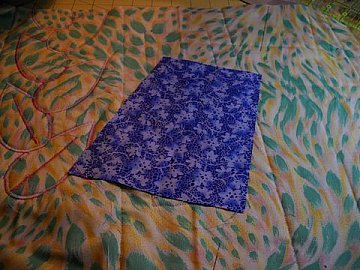 2. On one side of the center patch, place a second scrap at least as long as the side of the center patch, face down, with the right edge of the two scraps aligned.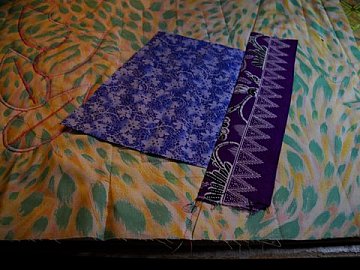 3. With ruler and pen or pencil, draw a line 1/4 inch to the left of the right edge of the two scraps, extending the line all the way to the edges of the placemat. Sew on this line. This makes the back of the quilt neat, with no start-and-stop thread tangles on the back.
4. Flip the top patch out toward the edge of the placemat and press. Now both scraps are right side up.
5. Repeat steps 2 through 4 until the placemat is entirely covered. If necessary, sew smaller scraps together so that you always cover the whole width of the sewn patchwork. Any color, any width scraps will work.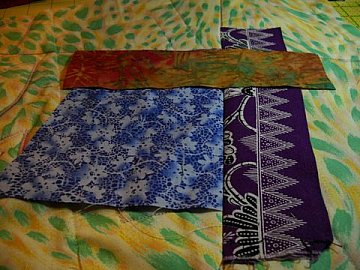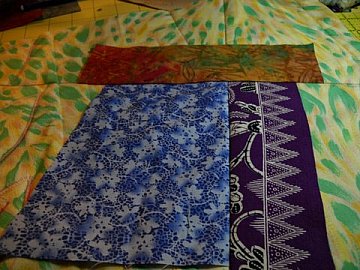 5. Finish the quilt by zigzagging once or twice around the outside. Trim the edges close to the stitching.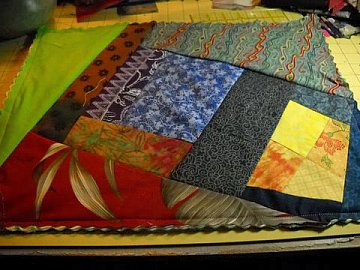 Wash the quilt before you donate it. If your own cats are jealous, make each of them a quilt too!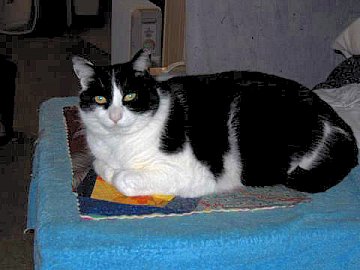 ---
Related Lessons Projects:
~
Sewing Lessons Level 5
, ~
Mini Snap Bag
, ~
Sew a buttonhole
, ~
Zipper Bag
, ~
Netbook Carrier
,~
How to sew a quilt
, ~
Cat Quilt
, ~
Quilt in 7 sittings
, ~
Denim Quilt
, ~
Rainbow patch blanket
, ~
Striped Quilt
, ~
Frayed Edge Quilt
, ~
Bandanna Quilt
, ~
Scrap Patchwork Quilt
, ~
How to tie a quilt
, ~
Sew a Rug
, ~
Needle Book
---