Are you on facebook? Join our Kids Sewing Projects group!

Would you like to see a sewing contest this holiday season? Depending on the response back we'll decide if we will go ahead with the contest. So go ahead and email me back by hitting reply with a Yay or Nay!


Sewing Kits
This month I just wanted to introduce you to Sewing Kits 4 Kids.

Sewing Kits 4 Kids was established by two young sisters, Karen and Susan Weckler, who are helping others learn the practical life skill through fun and cute ready to sew projects.



Their home business has expanded through the years and they have even made a trip to Honduras to share their sewing skills with women and children in the villages.



They have many fun projects for kids from age 4-16 including hand sewing as well as simple sewing machine projects. These make great gifts as well as projects for a girl scout troop, after school group, playgroup, etc.

Well done Karen and Susan!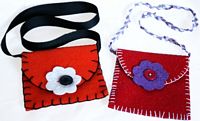 See more kids sewing kits here.

More sewing resources:

Kids Sewing Curriculum Ebook

This newsletter sponsored by:




Enjoy!

Debbie Madson
https://www.kids-sewing-projects.com
http://www.kids-cooking-activities.com
http://www.learn-cake-decorating.com