Basic Sewing Kit in a Jar
A basic sewing kit in a jar makes a great gift idea but it is something easy to put together for your own sewing needs. You can use a quart or a pint canning jar for this project.
You will need:
canning jar
small piece of material
sewing supplies
batting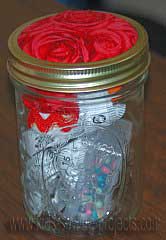 Cut out a circle from your material about 1 inch larger than your canning jar lid. You can cut out a pattern on a sheet of paper to get the right side if needed.
Place batting between material and the canning lid. Press into jar lid and glue ends on the underside of the lid.
Place
sewing supplies
in your jar and screw on lid. Some sewing supply ideas could be small scissors, a seam ripper, measuring tape, colored threads, a package of sewing needles and straight pins.
---
Related Non-Sewing Projects:
~
Non Sewing Projects
, ~
Fleece Pillow
, ~
Fleece Poncho
, ~
Fabric Wreath,
~
Fairy Wings
, ~
Fleece Blanket
, ~
Fleece Scarf
, ~
Sewing kit in a jar
, ~
No sew vest
, ~
No sew t-shirt apron
, ~
Fabric Bulletin Board
, ~
Yarn Scarf
---
Kids Curriculum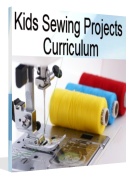 Would you like our sewing lessons and projects in an ad free, easy to read format?
Our curriculum ebook has over 100 projects to teach kids (or adults) to sew.
Perfect for teaching!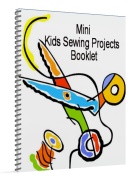 Join the
Kids Sewing Club
and receive a free projects ebook.